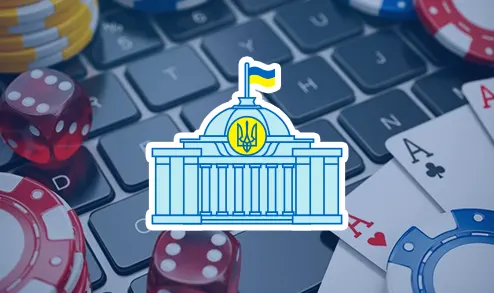 The Ministry of Digital Transformation of Ukraine has proposed to the Verkhovna Rada to remove the human factor in the issuance of casino licenses and eliminate the Commission for Regulation of Gambling and Lotteries (CRGL). According to Ukrainian News Agency, the announcement came on Minister of Digital Transformation Mykhailo Fedorov's Telegram channel, where he explained that the government supported the bill and is pending approval from the Parliament.
Bill Seeking to Liquidate the Commission for Regulation of Gambling Awaits Final Parliament Approval
The Cabinet of Ministers has proposed that the Verkhovna Rada liquidate the Commission for Regulation of Gambling and Lotteries and automate the process of granting casino licenses to eligible operators. The measure also seeks to make the licensing process more transparent and fairer.
In a statement on his Telegram channel, the Minister of Digital Transformation Mykhailo Fedorov wrote that organizational changes would allow for the quick implementation of an Information Technology (IT) system for online monitoring. This would facilitate the interaction between gambling business operators and the state in real time.
Although the measure has already been registered in the Verkhovna Rada, the text of the draft bill is still not published. According to industry experts, the liquidation of CRGL will also save the country money from salaries and other expenses.
The Short History of Ukraine's Gambling Regulator
On July 14, 2020, Ukraine officially legalized gambling. The Commission for Regulation of Gambling and Lotteries was formed on September 23, 2020. The Ukrainian state regulator has been tasked with issuing licenses to casino operators and overseeing the industry. At the end of October 2020, the Cabinet of Ministers appointed Ivan Rudyi as the chairman of the Commission for Regulation of Gambling and Lotteries.
In March 2021, the gambling watchdog awarded the first license to the sports betting company Parimatch LLC. Last year, the regulator announced that it received 667 applications for gaming licenses. A total of 603 licenses were issued by CRGL, of which 593 were slot licenses. Three licenses were issued to allow online gaming, and four others were granted to sports betting companies. Another three licenses were awarded to operators interested in offering gambling services.
A total of 63 were not considered due to mistakes in the applications. The regulator also revealed that half of the licenses were issued during martial law. Last December, Ukraine's gambling watchdog canceled the licenses of three Russia-linked gambling businesses.
In March this year, the Ukrainian regulator suggested reforms to the procedures for suspending licenses during martial law. The proposed changes aim to prohibit Russian gambling businesses from operating in Ukraine. Besides, the proposed measures seek to suspend the licenses of operators who offer games of chance in Russian-occupied territories, combat the illegal market, and reduce the number of people affected by gambling problems.
.