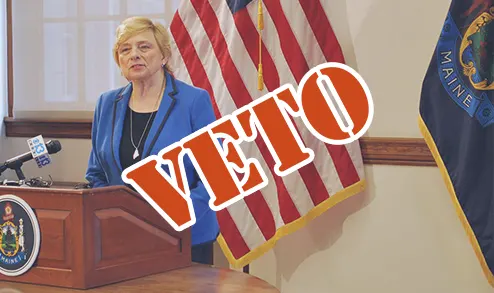 On Friday last week, Governor Janet Mills turned down a bill seeking to grant Wabanaki tribes access to federal laws, even though the House and the Senate overwhelmingly approved the legislative effort. The proposed legislation would allow the tribe to benefit from some federal laws, except for gaming laws allowing casinos and laws regarding serious crime. Gov. Mills explained that she supports the idea of giving the Wabanaki Nations more rights but vetoed the legislation because such a reform could lead to unnecessary lawsuits against the state and possible conflicts.
In a six-page veto message, Gov. Mills said that if the bill becomes law, Maine tribes would no longer comply with state laws which would lead to problems. Governor Mills asked the tribes to cooperate with the administration and find a solution instead of implementing a bill that would cause more complications.
As BonusInsider reported at the end of June, the House passed the legislation on a 100-47 vote. Lawmakers supporting the legislation, also known as LD 2004, said it would put the Wabanaki Nations on almost the same footing as most other federally recognized tribes in the United States. However, the tribes would be prohibited from organizing Class II gaming on their land – a provision added by legislators so the bill could garner support from Maine Republicans.
There is Still Chance for the Bill to Become Law
Since 1980, the tribes in Maine have been governed by the Maine Indian Claims Settlement Act. Under the act, the Native American tribes in the state are governed by state laws, meaning they cannot benefit from federal laws passed after 1980 unless specifically mentioned otherwise. The Indian Gaming Regulatory Act (IGRA) became effective in 1988 but did not mention Maine's tribes. Thus, the Wabanaki Nations were not allowed to conduct gambling activities on their tribal lands.
Gov. Mills tried to gloss over the problem by agreeing to grant the tribes exclusive rights over online sports betting. In 2022, the state legalized sports wagering, but the official launch date is still not determined. She said she wants the tribes to be treated fairly and confirmed that they already benefit from most federal laws.
Gov. Mill's administration explained that they would have to modify the existing state laws affecting public health, water and air quality, land use, fish and game regulations, and fire and building safety if the bill becomes law, which is still possible because lawmakers can override the governor's veto.
Lawmakers can override the veto with a two-thirds vote in both the House and the Senate. Although the bill passed the Legislature with an overwhelming majority, the legislators who voted in favor of the bill before may change their minds because now they will have to vote against the governor's decision.