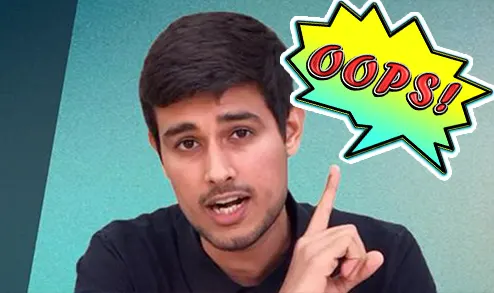 Dhruv Rathee, a popular YouTuber, has recently tweeted that he would release a video to discuss how an online betting app has become the main sponsor of the Indian cricket team. His tweet attracted the attention of many sports fans who were eager to hear his opinion on the matter. The YouTuber's tweet has been provoked by the recently signed sponsorship deal between Dream 11 and the country's national cricket team.
The YouTuber has decided to use psychological tactics instead of directly discussing fantasy sports platforms. Rathee's tweet reveals that he considers fantasy sports a form of gambling. The YouTuber went even further by calling these gambling apps "trashy". His tweet suggests that online betting apps are sponsors of the Indian Premier League teams and they would advertise their gambling services during cricket events.
An online betting app will now be the main sponsor of Indian Cricket Team.

My next video will be about such trashy apps.

— Dhruv Rathee (@dhruv_rathee) July 1, 2023
The YouTuber, however, has presented things in a very subjective way. According to him, online betting apps will sponsor the national cricket team. However, India's cricket team has signed a sponsorship deal with the fantasy sports platform Dream 11. In India, fantasy sports are legal because they are considered games of skills.
All luck-based games, however, are illegal, and advertising illegal gambling activities is punishable. Besides, the YouTuber did not mention the names of the betting apps operating against the law. Rathee pointed out that he did not specify the names of the apps because of possible copyright claims.
Fantasy Sports are Legal in India Because They are Seen as Skill-Based Games
Before selecting the sponsor for India's cricket team, the Board of Control for Cricket in India (BCCI) had explained that companies offering real-money gambling would not be allowed to participate in the bidding process. An undeniable fact, however, is that numerous illegal offshore betting apps have emerged on the Indian market and are promoting themselves through celebrities and surrogate brands.
But the BCCI made the right decision in selecting Dream 11 as the main jersey sponsor for the Indian cricket team because the app was declared legal by the Supreme Court. Besides, fantasy sports apps have been determined to be games of skill by various high courts. Lumping online gambling apps and fantasy sports platforms together is simply wrong and misleading.
On Saturday, the BCCI announced that it signed a three-year deal with Dream 11, under which the fantasy sports platform would be the new sponsor for the India cricket team, replacing the ed-tech platform Byju's. The BCCI unveiled that the Dream 11 logo would appear on cricket players' kits for the first time during the West Indies vs. India Head-to-Head Test matches, scheduled to kick off on July 12 in the Caribbean.