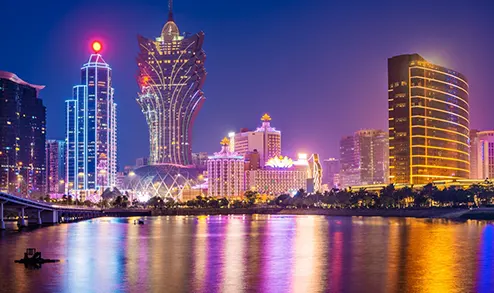 The Gaming Inspection and Coordination Bureau (DICJ) of Macau made an announcement on October 1, revealing that the region's gaming sector generated 14.9 billion patacas ($1.85 billion) in gross gaming revenue (GGR) for the month of September. As per calculations by Bloomberg, this is 13.2% less than the growth observed in August, when the revenue reached 17.21 billion patacas ($2.12 billion).
This slowed growth was heavily attributed to Typhoon Saola, which struck the city in September. The extreme weather was a threat significant enough to warrant a Number 10 storm signal, which is the most severe weather warning when it comes to tropical cyclones. This forced casinos across Macau to close temporarily, and the shutdown lasted for around nine hours. Moreover, residents in and outside the city also faced major difficulties transportation-wise.
September was also the month when Secretary of Security Wong Sio Chak announced that Macau's authorities were planning to criminalize unlicensed money exchanges conducted at Macau casinos. Criminal activity associated with such unauthorized exchanges was cited as the main reason behind the proposal. Although this announcement triggered a stock sell-off, analysts at JPMorgan predicted that the potential legislation would not impact Macau's GGR significantly.
Things Might be Looking up for Macau's Gaming Sector
Despite the month-to-month downturn, the figures are nonetheless promising when it comes to the jurisdiction's yearly performance, as September's proceeds are up by 404.2% versus the GGR recorded for the same month last year. It should also be noted that the Golden Week holiday commenced on September 29 and will continue until October 6. An estimated 120,000 visitors are expected to visit the city in total, and hotel occupancy is predicted to reach 90%. Thanks to this potential increase in tourist traffic, the holiday will result in improved GGR rates, according to forecasts. This would also fall in line with performance surges observed in previous years during the period.
According to Citigroup analysts, October will prove to be the best 2023 month when it comes to gaming proceeds, thanks to the Golden Week holiday, with some forecasts citing a possible revenue of 19 billion patacas ($2.34 billion). The daily GGR is expected to be around 765 million patacas ($94 million) during the holidays and 575 million ($71 million) per day until the end of October. The expected total figure would break the previous post-COVID-19 record of 17.21 billion patacas recorded this August and inch closer to the pre-COVID-19 figures of 22.13 billion patacas ($2.73 billion). They also predict 181.5 billion patacas ($22.4 billion) to be the final GGR figure for the entire 2023 year, or around 62% of the levels in 2019 before the pandemic struck. Thus far, Macau's 2023 GGR for the first nine months totaled at 128.9 billion patacas ($16.1 billion), or an improvement of 305%.