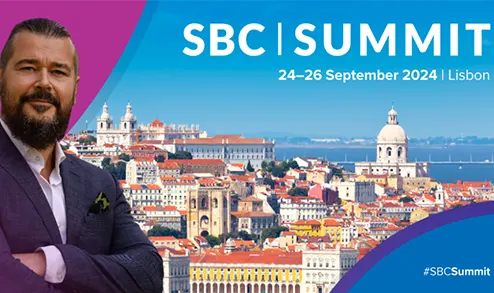 Sports betting and iGaming professionals should mark a must-attend upcoming event in their calendars, spanning from September 24 to 26, when the SBC Summit 2024 will take place. The much-anticipated conference will change its current location in Barcelona with a new one, in Lisbon. Furthermore, the name of the event will also alter from SBC Summit Barcelona to SBC Summit 2024 to better manifest its international character.
Known as one of the fastest-growing iGaming events, the SBC Summit enables global leading companies to assemble and share their vision of the industry's future, collaborate, and expand their business interactions.
The move to a new site is propelled by the need to measure up to the proportions of one of the fastest-evolving events within the iGaming industry. Feira Internacional de Lisboa, an exhibition and congress center in Lisbon, will be the new host of the grand iGaming event. As Rasmus Sojmark, CEO of SBC commented, picking a new venue and city for next year's edition of the exhibition was of utmost importance.
Everyone involved in the iGaming industry will be able to take advantage of the potential opportunities for business development and growth. This includes sports betting and casino operators, payment service providers, legal advisers, and affiliates, among others.
SBS Summit 2024 Enhanced Capacity to Welcome Over 25,000 Visitors
Sprawling across an excess of 100,000 square meters, the 2024 exhibition area will be more than twice larger than this year's site's dimension, which amounts to 38,000 square meters. The improved capacity will allow the organizers to extend their hospitality to more than 600 exhibitors and 25,000 attendees.
SBC Summit 2024 will welcome participants from all over the globe. As usual, the tradeshow zones will cover various industry sectors including sports betting, casino and iGaming, payments and compliance, and the latest technologies.
Thanks to the partnership with Feira Internacional de Lisboa, the 2024 SBC Summit's facilities will live up to the highest standards to ensure a sensational experience and ultimate contentment. Participants will be able to expand their business relations through meetings at the venue's diverse range of cafes, bars, restaurants, and other entertainment facilities. Furthermore, the proximity of the conference center to Humberto Delgado Airport is yet another factor contributing to the comfort of SBC Summit's guests.
Portugal's stunning capital city was not chosen by chance, either. With its most wonderful ensemble of unique history, breathtaking architecture, and fantastic cuisine, it will serve as the perfect site for a large-scale event such as SBC Summit 2024.
Both the conference center and the city provide exclusively favorable conditions for the growing demands of one of the fastest-evolving events within the iGaming industry.
This year's edition, SBC Summit Barcelona 2023, takes place from September 19 to September 21 at Fira de Barcelona Montjuïc.