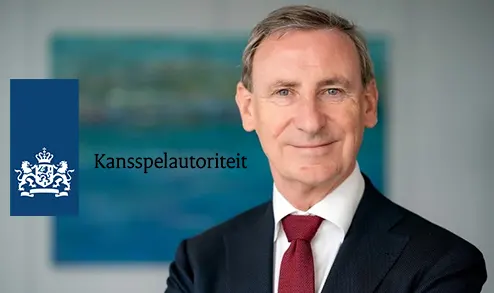 René Jansen, the Chair of the Netherlands Gaming Authority (KSA), has recently insisted on implementing more stringent monitoring of the Dutch online gambling market. He outlined his view on the industry's ongoing development and challenges in a blog post, entitled "Gambling addiction: prevention is better than cure" and published on the official webpage of the Kansspelautoriteit on October 31, 2023.
In his publication, he recognized that the legal gambling market has seen substantial media coverage over the last several months. The Kansspelautoriteit's reports on duty-of-care and market monitoring have provoked a stir in the public. He explained that the important matters of consideration for the public were the size and growth of the regulated market and the behavior of online gambling operators.
On the one hand, Jansen underlined that although it was difficult to estimate how many new players the regulated market has ushered in, the reports' channeling rates suggested that they bet largely with legal operators within a safe and transparent environment.
Online gambling operators, on the other hand, should be alert to problem gambling behavior and, consequently, intervene in a timely and appropriate manner, when they identify such.
René Jansen Stresses the Importance of Gambling Addiction Prevention Initiatives
KSA's Chairman further accentuated the importance of two addiction prevention initiatives administered by the KSA – the Verslavingspreventiefonds (VPF) and Loket Kansspel.
Established in 2021, along with the formal launch of the Dutch online gambling marketplace, the Verslavingspreventiefonds (VPF), is financed by gambling operators and serves to ensure that gambling remains a form of recreation. Gamblers who have crossed the limits of moderation can seek anonymous treatment.
Loket Kansspel, on the other hand, is funded by the VPF and provides a round-the-clock support service via live chat, telephone, and WhatsApp to problem and at-risk gamblers.
In conclusion, Jansen explained that three pilot projects regarding gambling risk awareness are about to be launched in the upcoming months. Among them is an update of an e-learning module designed for professionals on effective mechanisms for recognizing gambling addictions more promptly. Yet another module on the potential harms of gambling will be included in the curriculum of secondary school students. Furthermore, a guide, intended for players about gambling risks and financial guidance will be published on geldfit.nl.
Two weeks ago, René Jansen confirmed his intention to step down as Chairman of the KSA, as he would reach retirement age by the end of the current year. Having assumed the management position in 2018, he will serve as Chairman until June 2024, when the Minister for Legal Protection will appoint a new applicant. Jansen commented on his forthcoming retirement, stating that the role is "challenging, requires creativity, innovation, and decisiveness, but above all has great social value."