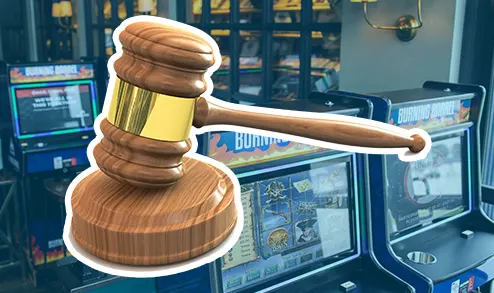 Prominent Technologies, a Pennsylvania-based company that manufactures and operates "skill-based" machines, along with other plaintiffs, filed a lawsuit on Tuesday against the state of Kentucky, claiming that the ban on the so-called "skill-based" machines is unconstitutional. The plaintiffs also asked a Jefferson Circuit Court judge to block Attorney General Daniel Cameron's attempts to enforce House Bill 594, under which "skill game" machines are illegal, and establishments operating such games can face a hefty fine of $250k per machine.
Kentucky-Based Company Sues the State over "Unconstitutional" Ban
The lawsuit filed on Tuesday claims that the ban is unconstitutional and violates the game machine's owner's right to freedom of opinion and expression, due process, and just compensation. The complaint alleges that HB 594 contravenes "common law jurisprudence" and must be overturned. Bob Heleringer, one of the attorneys representing the industry and a former Republican state representative from Louisville, explained that it was urgent to file a new lawsuit due to delays in the Pace-O-Matic court case filed in March this year.
The attorney representing Prominent Technologies and the other plaintiffs in the current lawsuit is House Majority Whip Jason Nemes, R-Louisville. Earlier this year, the media agency Lexington Herald reported that Nemes received an advisory opinion from the state's legislative ethics body, which stated that voting and supporting the bill is ethical.
Pace-O-Matic Along with Other Companies Filed the First Lawsuit against Kentucky in March
At the end of March this year, Pace-O-Matic and other "skill game" companies sued the state for implementing a ban on the so-called "skill-based" gaming machines. The machines look like slot machines that offer cash prizes. They could be found in bars, restaurants, and truck shops before Governor Andy Beshear signed HB 594 into law.
But state lawmakers' decision to ban the "skill-based" gaming machines ruffled the feathers of Pace-O-Matic and other companies, which filed a lawsuit against Kentucky over the ban. The suit claims that these games have been legal in the state of Kentucky and other jurisdictions for centuries. The plaintiffs called the ban "unconstitutional" and noted that these machines helped many businesses survive during the Covid-19 pandemic. The complaint also asserts that the "skill-based" gaming machines have recently attracted the attention of horse racing businesses.
Chief Public Affairs Officer for Pace-O-Matic, Michael Barley, explained that the company is ready for a legal battle and added that it is illegal to outlaw skill-based games. Kentucky Attorney General Daniel Cameron confirmed his office would defend the state in the lawsuit.
In recent weeks, the Pace-O-Matic lawsuit has remained in the background as another state law, which allows Cameron to move some lawsuits to another circuit court chosen at random, was approved. The constitutionality of this law is to be determined by the Kentucky Supreme Court.