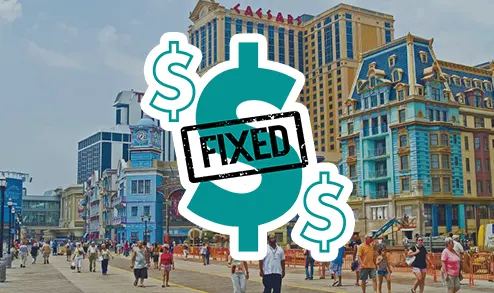 Customers are to legally challenge Caesars Entertainment Inc, MGM Resorts International, and other casino-hotel operators in Atlantic City, New Jersey, for market manipulation, which is against U.S. antitrust law. Two New Jersey residents filed a 109-page lawsuit on Tuesday against Hard Rock International and Cendyn Group LLC, a Florida-based hospitality technology company, which is allegedly at the core of the conspiracy. The defendants used Cendyn's platform to set higher room rates for their hotels, including Harrah's Atlantic City, Bally's Atlantic City, and Borgata.
What Provoked the Price-Fixing Scandal?
Caesars Entertainment Inc, MGM Resorts International, and other casino-hotel operators in Atlantic City were legally challenged by two New Jersey residents, Heather Altman and Eliza Wiatroski, who claimed that the defendants violated the U.S. antitrust law by cooperating with shared pricing algorithm platform Cendyn to keep hotel room rates artificially high.
The lawsuit alleges that the defendants use the same software from Cendyn Group to monitor and dynamically set room rates. Additionally, data released by the New Jersey Division of Gaming Enforcement revealed a dramatic increase in Atlantic City room rates. At the same time, there has been a decrease in occupancy rates since 2018. The lawsuit also alleges that Atlantic City casino hotels rented 5% fewer rooms but increased the room rates by 25%.
According to the lawsuit filed by the two New Jersey residents, during the class period from 2018 until now, the market has not experienced some significant changes that could explain the sharp increase in room rates. The defendants may have to pay the plaintiffs treble damages under federal antitrust law.
Representatives from Caesars Entertainment, MGM Resorts, Hard Rock, and Cendyn Group refused to comment on the case. Lawyers for the plaintiffs, including attorneys from the law firm Susman Godfrey, also did not respond to a request for comment.
Other Casino Hotels on the Strip Also Faced Similar Charges in January This Year
But this is not the first price-fixing scandal in which casino hotels are involved. In January this year, a class action lawsuit was filed against several Las Vegas hotel companies, claiming they had worked together to manipulate the market and artificially increase hotel room rates.
The lawsuit asserted that Caesars Entertainment, Treasure Island, Wynn Resorts, and MGM Resorts violated antitrust laws by using software to maximize pricing. The lawsuit alleged that everyone who booked a hotel on the Strip after January 25, 2019, paid a lot more than they would have in a competitive market.
The companies implicated in the price-fixing scandal asked a U.S. court to dismiss the lawsuit, claiming that the plaintiffs did not present direct evidence that the companies manipulated room rates by using the revenue management platform.