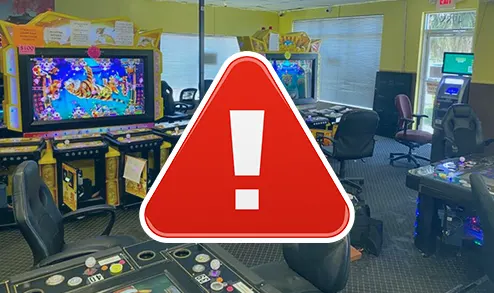 Florida Gaming Control Commission experts warn residents that adult arcade establishments that offer slot machines are illegal and offer zero consumer protection. Besides, there is no guarantee that the games are fair and the operator will not disappear with the consumers' money.
The gambling regulator noted that those who operate slot machines outside licensed gambling venues may face a fine of up to $10k per machine, while the illegal slot machines are subject to confiscation. The Florida Gaming Control Commission recently issued warnings to over 20 businesses in Southwest Florida.
Florida Residents Must Be Aware of the Risks of Playing at Illegal Gambling Venues
Eric Carr, director of external affairs with the Florida Gaming Control Commission, said that slot machines operating outside a casino are illegal. He added that the only legal casinos in Florida are those owned by the Seminole Tribe of Florida and the Miccosukee Tribe of Indians of Florida. Carr explained that legal casinos must offer a payout of no less than 85%. On the other hand, illegal establishments do not comply with this requirement, and there is no consumer protection.
Carr noted that the gambling regulator has a portal where everyone who has information about illegal gambling information can share it anonymously, and the regulator will check the tip. Under the provisions of Florida's gambling law, everyone caught operating illegal slot machines will be fined $10k per machine, and the machines will be seized.
The Florida Gaming Control Commission revealed that 20 businesses in Southwest Florida recently received warning messages. But this is not the first time this has happened. At the end of April, officers from the Florida Gaming Control Commission issued warnings to six Leon County venues offering illegal slot machines. The sites were notified that they must cease operations, or else they would be fined.
Business Owners and Consumers Must Be Educated on the Legalities of Slot Machines
Carl Herold, director of gaming enforcement with The Florida Gaming Control Commission, said that some business owners were unaware that these machines are illegal. He added that it is important to educate them on the legality of these machines. He also noted that the regulator cannot force owners of such venues that illegally offer slot machines to pay out players' winnings.
Herold explained that not all establishments are uncompliant. For example, an establishment like Dave and Busters does not violate the law as it provides players with the opportunity to win tickets instead of cash prizes. He said that some businesses voluntarily remove the illegal slot machines when they receive a warning notice. Those who continue hosting such machines even after getting a warning letter are being investigated.
Herold refused to specify when exactly uncompliant businesses will be investigated as they could move to a different location. He also noted that the state is losing money from illegal gambling activities. Licensed casinos pay a state tax of 35% on their net profits, and the money goes to Florida's Bright Futures Scholarship Program. Herold said illegal gambling enhances crime, and people should fight against it.