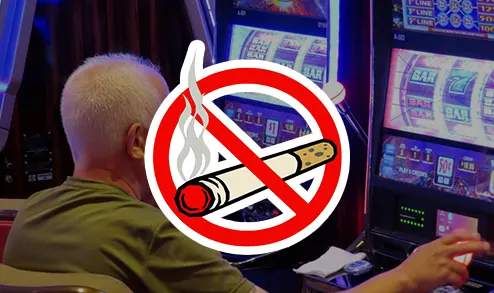 Casino workers in many U.S. states urge lawmakers to ban smoking on casino floors due to the health risks associated with secondhand smoke exposure. Currently, Kansas casinos are exempt from smoking bans, but that could change in the future as a group of casino workers calls on state lawmakers to pass a bill that would prohibit smoking in all areas of a gaming venue.
According to some industry experts, the smoking ban would drive away players and reduce tax revenues. But various studies and reports show that casinos, which voluntarily adopted a smoking ban, did not experience revenue declines and customer losses.
Casino Workers Demand Safer Working Environment
Casino Employees Against Smoking Effects (CEASE) represents the loudest voice against smoking on casino floors. The group pushes state lawmakers to prohibit indoor smoking in casinos. Members of the group focused on the negative health effects of inhaling secondhand smoke. CEASE founder Joe Hafley explained that casino workers are the backbone of the industry and taking care of their health is important.
In a news release, Hafley said that thousands of casino workers from different states joined the organization to urge lawmakers to ban indoor smoking in casinos and ensure a safe working environment. As a casino security officer, Hafley explained that he is not stuck on the casino floor but is still exposed to secondhand smoke and smells like cigarettes when he goes home after work.
Hafley added that CEASE Kansas has already convinced several policymakers to cosponsor a bill that would prohibit indoor casino smoking, which was approved by the Kansas House in April this year. Cynthia Hallett, Chief Executive Officer of Americans for Nonsmokers' Rights, admired the passage of the legislation and said that the legislative effort would benefit casino workers and visitors if approved.
Banning Indoor Smoking Will not Hurt Kansas Casinos' Revenues
CEASE members claim that Kansas is one of about a dozen states that still allow indoor smoking in casinos. Pete Naccarelli, a co-founder of CEASE, said that casino workers do not want to risk their health and endure secondhand smoke to support their families anymore.
Secondhand smoke contains dangerous chemicals that increase the risk of developing allergies, infections, and other respiratory problems. Naccarelli noted that gambling establishments must get rid of the perception that banning indoor smoking would harm their revenue and must start taking care of their staff.
CEASE cited a report by Las Vegas-based C3 Gaming, which revealed that casinos that implemented smoking prohibitions did not experience any drop in revenues. The report even claims that gambling venues, which have banned smoking completely, perform better than the casinos that still allow indoor smoking. CEASE also noted that casinos' ventilation systems are ineffective against secondhand smoke.