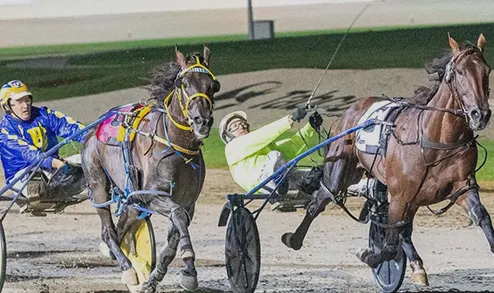 A group of investors shared that they eye the opportunity to establish a new harness racetrack and casino (racino) in south suburban Richton Park that would boost Illinois' horse racing industry. To realize their plans, state legislators should remove Hawthorne Race Course's power to veto any racino proposals within 35 miles of its track in west suburban Stickney. The proposal to build a racino on an 80-acre plot of land comes from the recently-established Greenway Entertainment Group.
Lawmakers May Remove Hawthorne's Veto Power
Wealthy developers have already announced their intention to invest up to $350 million in a racino project in Richton Park. The Greenway Entertainment Group, headed by Lake Bluff developer Drew Daniels, has met state officials several times to discuss the project after Hawthorne Race Course stalled its expansion plans several times that resulted in a revenue loss. In a letter to the Illinois Gaming Board, Mr. Daniels urged the authority to consider the significant revenue loss caused by "endless delays". He added that many Richton Park village officials support the proposal.
Richton Park Village President Rick Reinbold embraced Greenway Entertainment's proposal, saying that the community would welcome this type of investment. Mike Campbell, the former president of the Illinois Thoroughbred Horsemen's Association, explained that the state should allow them to realize the project as Hawthorne's racino plan has remained in limbo for long enough.
But lawmakers must amend the Illinois Horse Racing Act of 1975 that grants racetracks the power to veto any racino proposals within 35 miles. In 2019, state legislators included Hawthorne in the gambling expansion law that allowed for six new casinos to be established in the state. Last month, Sen. Patrick Joyce introduced a bill that would remove Hawthorne's veto power and allow the Greenway Entertainment Group to move forward with its plans.
What Happened with Hawthorne's Racino Plans?
In 2019, Hawthorne announced its plans to build a racino in an effort to support the struggling horse racing industry in Illinois. But the state refused to sell the land for the project because one of the company's partners, Heidner, had its license revoked for allegedly offering a $5 million "illegal inducement".
Hawthorne President Tim Carey explained that the company had to postpone its plans to establish a racino at its existing track due to high-interest rates and other challenges that arose from the Covid-19 pandemic. He said that Hawthorne could easily install 1,200 slot machines, but they wanted to build a racino entertainment complex that would attract fresh revenue money and benefit the horse racing industry.
According to the latest news, Hawthorne'splans still need financing to proceed, but the racino project is now shovel-ready for the renovation after much of the inside and the front glass face of Hawthorne's grandstand has already been demolished.