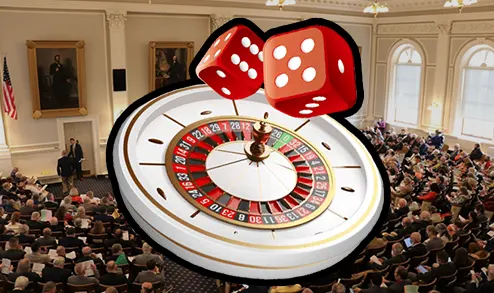 On March 30, the New Hampshire online casino legislation passed through the Senate, and now it heads to the House of Representatives for consideration. Rep. Tim Lang's legislative effort failed on the second reading by a vote of 11-12, but Senate President Jeb Bradley supported Lang and called a recess. The Senate agreed to reconsider its decision and passed the online casino bill by a narrow 12-11 vote.
Key Provisions of the New Hampshire Online Casino Bill
SB104 became the first online casino bill for 2023 that has received approval from a legislative body after Sen. Kevin Avard switched his vote from no to yes. Last Thursday, Rep. Tim Lang's legislative effort failed to pass the Senate on second reading by a vote of 11-12. But Senate President Jeb Bradley called a recess. After several minutes, the Senate returned to reconsider the legislation. On a second vote, the bill passed by a 12-11 vote.
Under the bill, the New Hampshire Lottery Commission would be the authority responsible for overseeing the online casino industry. The regulator would be allowed to choose which operators it will license through a competitive bidding process.
The piece of legislation also stipulates that individuals must be at least 18 years of age to participate in online gambling activities. The online games that would be allowed include poker, blackjack, roulette, craps, and baccarat. Besides, online casino revenue would be directed to a community college scholarship fund.
Online Casino Gambling May Affect Charitable Gaming Revenues
But not all legislators approved Lang's legislative effort. Some explained that online gambling could have a negative effect on charitable casinos in New Hampshire that provide a portion of their revenue to support good causes.
Lang explained that online sports betting is a form of online gambling, which has been legal in New Hampshire since 2019. However, it did not affect charitable brick-and-mortar casinos because they offer other types of games such as historical horse racing and Lucky 7.
Lang added that SB120 is the bill that would appease concerns that online casinos will hit charitable gaming revenues. Under this legislation, the betting limit would be increased from $10 to $50. Besides, buy-in and re-buy limits on tournament games would be raised from $150 and $250 to $2,500, while table stake limits would surge from $150 to $2,500.
SB104 and SB120 aim to consolidate charitable gaming contributions and legalize online casino gambling in New Hampshire. Last Thursday, the two bills passed on the third reading by voice vote. However, there is no guarantee that the legislative effort will pass the House. The New Hampshire legislative session is to commence on June 30.