When we are talking about high-quality, fun and rewarding bingo experience, there is no doubt that William Hill is the website to visit. It provides a wide range of bingo games that can entertain fans of 75-ball bingo, 90-ball bingo and so many more bingo variations. When we are talking about trustworthiness, you can definitely rely on William Hill as it is a well-renowned website for both UK bingo players and enthusiasts for different parts of the world. On top of its amazing gaming solutions, William Hill provides plenty of bountiful offers which can make your interactive bingo extremely fruitful and exciting.
Full Bonus Terms and Conditions
When it comes to promotional offers, William Hill is definitely tough to beat. Both newcomers and regular bingo players can easily boost their gaming balance and enjoy games with a better value. On top of the deals that the bingo website is offering, players can also be rewarded for their loyalty. As long as you play bingo for real-money at William Hill, you will enjoy rewards in the form of Loyalty Points. These points can, later on, be used as bonus money for your bingo or other games available on the website.
As you collect Loyalty Points, you can advance in the Bingo Club of William Hill. The higher your status in the Club is, the more points you will be rewarded for spending £1 on bingo tickets.
The first level of the Bingo Club is called Little Duck and players with this status will receive 50p for collecting 75 Loyalty Points. If you wish to upgrade to the next level, which is known as Two Little Ducks, you will need to collect 150 Loyalty Points. Players with this status will enjoy a lower point-exchange rate and they will be able to get 50p for 50 Loyalty Points. If you want to move up the Loyalty Programme, you will need 500 points. In order to maintain this level, you have to earn 120 Loyalty Points every month.
The perks get better as you advance at the Bingo Club. The next tier is known as Halfway House and will reward players with 50p for 40 Loyalty Points. If you wish to stay on this level, you will have to win 400 Loyalty Points each month. If you want to upgrade, you need to earn 2, 000 points.
The next levels of the Bingo Club offer even better benefits. The fourth tier of William Hill's Loyalty Programme is known as Queen B and awards 50p for only 35 Loyalty Points. If you want to enjoy the perks of the next Bingo Club level, you will have to earn 5,000 Loyalty Points, the numbers of points you need to maintain every month to stay on this level is 1,600.
The following advance level is called Sunset Strip and allows players to exchange 30 points for 50p in bonus funds. In order to remain on this level, you will need to earn 120 points each month. For the next level, you will need to earn 150 Loyalty Points, however, you will be able to upgrade to Top of the Shop only if you get invited by William Hill's agents. This status will allow you to exchange 25 points for 50p.
The Bingo Club of William Hill is available only to registered bingo players who are at least 18 years of age. You will earn a different number of Loyalty Points, depending on the game you are playing. Spending £1 on bingo tickets will earn you 1 point. If you play slots on the bingo software platform of William Hill, you will earn 1 point for a bet of £10, while the stake on scratch cards has to be £15.
Since Loyalty Points are accumulative, you do not necessarily have to stake £1 at once. For example, you can make a 10p stake during the course of 10 bingo games and you will earn 1 point. After one month, during which you have earned your Loyalty Points, has passed, you will have 90 days to redeem them. If you fail to do so, your points will be forfeited. If you fail to earn the points that will ensure you remain on the same level, you will be downgraded in the beginning of the following month.
If you happen to earn Loyalty Points thanks to a promotional deal or a chat game, those points will not count towards maintaining your Bingo Club level. If you redeem your points or they expire, your Club status will not be affected.
It should be noted that Loyalty Points cannot be redeemed for real cash. They can only be redeemed as bonus funds that can be used on bingo or other games at the William Hill's bingo lobby. The company has the right to change the conditions of the Loyalty Programmes at any time and exempt any player from the Bingo Club at its own discretion.
Related Bonuses
Ted Bingo The Grand 55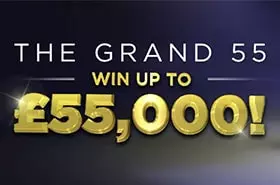 Ted Bingo is another member of the Cassava Enterprises Limited group of websites which are also part of the United Commi...
Read more