888bingo is part of Cassava Enterprises Limited which makes it a safe place for players to enjoy bingo games. Their polite chat hosts add to the wonderful atmosphere of the bingo site and create a pleasant environment. 888bingo has a magnificent loyalty scheme and an additional promotional offer to go with it. The 2 Million Race is a great example of the right way to put loyalty schemes to use.
Full Bonus Terms and Conditions
This promotion is available only to funded players and offers them a chance to win 2 million loyalty points in total, with the prize for the number one player being 300,000 loyalty points. The 40 players with the most loyalty points will receive this bonus every month.
The way to collect loyalty points is by reaching certain criteria. Here, we will walk you through it and explain the process in detail. The easiest way to get a solid start in this promotion is by inviting a friend to register and play at the casino. This will earn you 100 loyalty points if they register, deposit, and place a real-money wager within 17 days of your invitation.
If you manage to get a bingo with the pound sign pattern, then this will earn you 25 points. 888bingo features multiple pattern bingo games and even if you do not win, every £1 real or bonus money bet will give you 1 point. If you happen to get a bingo on number 2, you will win 1 point. If you deposit £50 in a day you will also win points – 10, to be precise.
You need to have completed all of those tasks in order to qualify for The 2 Million Race and the only way to keep earning points is through the actions on the list. So, all in all, there are five ways to keep earning points in order to get to the top 40. It may not seem like an easy task but the good news is that the points do not get reset every month, so they just continue to accumulate.
We already mentioned that the first-place winner gets 300,000 loyalty points, however, let us go over the rest of the prizes as well. The lucky bingo player who gets to be in second place will receive 250,000 loyalty points. Third place gets you 150,000 and fourth place will land you 100,000 loyalty points.
The bingo players ranked from fifth to tenth place will each receive 75,000 loyalty points. Those who are in eleventh to fortieth place will each be given 25,000 loyalty points. Keep in mind that players usually struggle to earn even 1,000 points, so if you successfully invite a few friends to 888bingo, you will almost certainly qualify for a spot on the top 40 list.
However, what are loyalty points actually worth – well, 1,000 loyalty points equal £1 in bingo bonus funds. So, even if you win, you will still need to meet the wagering requirements which are 4x your bingo bonus funds. You can also choose to keep the loyalty points without redeeming them for bonus funds. This way you can earn more and win first place in The 2 Million Race next time.
Another convenient thing about this promotion is that you do not have to register for it. If you qualify, you are automatically added to the list of potential winners. After you have been considered a qualified player once, you become a member and are automatically added to the race every month after that.
Winners are notified by e-mail and the points they have won are automatically credited to their account by the third day of the following month. There is no expiration date, so there is no way for you to lose your prize, and you do not have to do anything as the process is entirely automated.
Related Bonuses
888bingo Daily Jackpot Games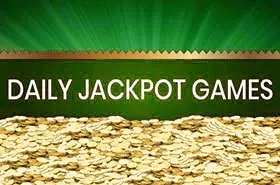 888bingo is another great bingo site by Cassava Enterprises Limited, which is a subsidiary of 888 Holdings plc. As such,...
Read more