The brand 888 has become a household name in the UK so that one does not necessarily have to be a gambler to have heard about it. In existence since 1997, 888 is under the umbrella of Cassava Enterprises Limited and has been added to the London Stock Exchange which gives customers another layer of confidence in its credence and reputability.
The brand operates an online casino, a sportsbook, a poker offering, and a bingo platform under the name of 888bingo. The latter was launched in 2009 and has been enjoying a great success among fans of the game, who are commonly attracted by the website's appealing design, broad range of bingo games, and high-value promotional incentives. One such incentive is known as the Big £10K, which awards the said amount in prizes each and every month.
Full Bonus Terms and Conditions
This is an ongoing promotion which targets loyal customers who make at least one deposit into their 888bingo account per month. Playing bingo on the website regularly is pretty much the only thing you can do to get a chance of entering since the Big £10K competition is reserved only for players who have received their free tickets via special invitations.
The game starts on the 10th of every month at 8 pm and tickets are distributed via the website's loyalty programme. The number of tickets you can win is closely related to the level you occupy in the loyalty scheme. First-tier members do not qualify for participation at all since they are not considered depositing customers.
You need to process at least the minimum deposit of £5, which would earn you a total of 60 points since every pound you deposit corresponds to 12 loyalty points. This also enables you to level up to the second tier of the programme and become a Bingo Pro. As such, you are eligible for 2 free tickets to the Big £10K game.
Bingo Masters who have collected at least 600 loyalty points by depositing and playing on the website are credited with 5 free tickets for this exciting monthly event. Customers at the highest, Bingo Champ level receive the maximum of 10 tickets for the Big £10K competition. The minimum number of points one needs to become a Bingo Champ is set to 2,400. The free tickets are distributed among lucky players before the big game commences.
Once in, you have a chance to grab your share of the huge £10,000 prize pool. Part of this amount is reserved for players who succeed in completing a full house and 1 line or 2 line patterns with their free tickets. If all numbers on your ticket are called for a full house, you are in for the tasty prize of £750. The player who declares a 2-line bingo is treated to a reward of £500 whereas a 1-line bingo earns the winner the amount of £250.
The coolest thing about this offer is that it does not leave near-miss winners with empty hands. The sum of £2,000 is divided equally between all the players who had one more number to go when bingo was declared. Players who were two numbers away from declaring bingo will have the amount of £1,500 evenly split among themselves.
These prizes so far account for £5,000 of the overall prize pool. The other half of the monthly prize pool is divided between the remaining players who have participated in the game. The qualifying game in the Big £10K Room plays with 90 balls. Prizes are credited to the lucky winners' balance as soon as the Big £10K game comes to an end.
There are several other conditions for players who have received their exclusive invitations for the Big £10K to adhere to. For starters, one needs to be at least 18 years old in order to register and make a deposit at 888bingo.
Each qualifying customer is granted 2, 5, or 10 free tickets, depending on their loyalty level, and cannot receive more. Registering multiple accounts with 888bingo for the purpose of obtaining more tickets will be interpreted as bonus abuse. The only thing such actions are likely to result in is your multiple accounts' termination and permanent exclusion from participating in the games at 888bingo.
The only players who are robbed of the opportunity to partake in this lucrative monthly promotion are the ones domiciled in restricted countries and territories. At the moment of writing, 888bingo does not accept play from the United States, France, Gibraltar, Italy, Antigua, Spain, Denmark, Turkey, Belgium, and Israel.
Related Bonuses
888bingo £100 Late Night Show Bonus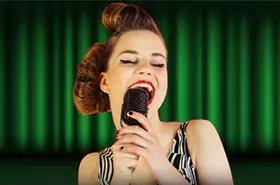 Bingo players looking for lots of betting action, lucrative promotions, and fun games should consider stopping by 888bin...
Read more