No matter which bingo variation is your favourite, at Unibet you will be able to find games that will keep you entertain and will award lucrative prizes. With more than 35 virtual bingo rooms, at this website, you will be able to play 75-ball bingo, 90-ball bingo, as well as plenty of bingo games that offer wonderful jackpots.
In order to help player experience a rewarding and fun bingo experience, Unibet offers plenty of promotions that give bingo fans an opportunity to explore the games available on the website and make their experience a lot more fruitful. Both newcomers and regular members of the website can take advantage of the various deals Unibet has on offer.
Full Bonus Terms and Conditions
The newcomers who have just joined Unibet have the chance to explore the bingo games at the website, without emptying their entire bankroll. New members of Unibet will be granted access to the Centre Court bingo room for beginners. The great advantage of this promotion is the fact that by accessing the Centre Court, players will have the opportunity to check the available bingo games of Unibet, before even uploading funds to their gaming account.
The first thing you need to do in order to take advantage of this promotion is to open an account at Unibet. Players must be 18 years of age or older to register at the bingo website. What is more, they should check if their jurisdiction is not among the restricted territories that will not be allowed to open an account at Unibet. Currently, you will not be able to create a profile or play at the website if you reside in Afghanistan, Australia, Denmark, Estonia, Ethiopia, France and other French territories, Hong Kong, Iran, Iraq, Italy, Jordan, Kuwait, North Korea, Pakistan, Philippines, Spain, Syria, Turkey, United States of America or Yemen.
Creating a bingo profile at Unibet is extremely easy. All you need to do is head to the bingo lobby of the website, and choose a chat name and a number you consider lucky. Once you are done with creating your bingo account, you will be able to enter the Centre Court bingo room. The promotional period that will allow you to explore the game in this bingo room lasts 14 days. This means that for two weeks straight, every day from 14:30 until 19:00 you will be able to purchase either free or very inexpensive bingo tickets and enjoy the games Unibet is offering.
The price of the tickets at the Centre Court varies from £0 to £0.25 per ticket. This means that you can play bingo for a great value and enjoy the opportunities this two-week promotion is offering. There are several games featured at the Centre Court and newcomers will have the chance to try them.
The first promotion offer that newcomers will be able to explore is BOGOF which is the abbreviation for 'buy one get one free'. As the name of this type of game suggests, you will get one additional free ticket for each one you purchase at the Centre Court. The prize pool in such games is determined by the number of tickets that have been purchased. The more tickets have been bought, the bigger the prize is going to be. If there is more than one winner in a single game, the prize is usually divided between the lucky players. This is what you can also do thanks to the 1&2 To Go feature of the Centre Court bingo room of Unibet. This means that you will have the chance to share the prize pool with the winners if you are only one or two numbers away from having Full House.
Fair 4 All is another feature that new bingo members of Unibet will be able to explore during their first two weeks in the Centre Court bingo room. Thanks to this option, players will come across some bingo rooms that will allow only a set number of tickets per games. This predetermined number applies to all players who have joined the game. This essentially means that all players will have an equal chance at winning.
The last feature is called Roll-on and it gives players the amazing chance to be paid even if they are not the first ones to get Full House. The Roll-on game is played just like any other bingo room but the only difference is that after a player gets Full House, the game continues until another lucky player wins with Full House.
Related Bonuses
Unibet Bingo £7,200 Exclusive Access to Grand Slam Room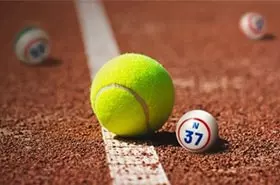 If you are looking for a decent gaming website that offers a real abundance of bingo games, you should consider heading ...
Read more