It may not always be easy to find a reliable online gaming website but those who have decided to join 888bingo can be sure that their bingo experience will be just as exciting as it would be at a land-based bingo hall. What is more, the website has plenty of promotions to offer and can help you enjoy a lucrative outcome while playing online. As a part of the 888 group, this bingo website maintains the same high-quality of gaming solutions and fair results as the other famous websites owned by the same company. In addition to the bingo games it has prepared, 888bingo also offers several slot variations which can appeal to different types of interactive players.
Full Bonus Terms and Conditions
For those who are excited to explore their options at 888bingo, the website has prepared wonderful free games which are available daily and can make any day of the week more lucrative and fun.
The first free game deal that you will be able to enjoy as a member of the bingo website is called Daily Doozey. You will be able to revel in free 75-24 bingo games every day of the week. You must have registered at the website at least 3 days prior to using this promotion deal. The Daily Doozey games run between 07:00 and 22:00 and there is a different bingo bonus, depending on the time you have joined the game. Thanks to Daily Doozey players have the chance to win up to £315 in a single day.
The bingo bonus that you will earn every 20 minutes from 07:05 until 21:45 is £5. Between 07:15 and 21:15, there is a game with a £2 bingo bonus on every hour. On every hour, between 07:35 and 21:35, the bonus that you will have the chance to win is also £2 while playing on every 60 minutes between 07:55 and 21:55 will award you with a £1 bonus. All of the time frames that are stated, are in UK local time.
The next bonus that you can enjoy thanks to this promotion is Quids In. Every day, between 08:00 and 22:00, you will have the chance to win up to £70. Every 20 minutes starting from 08:00 until 10:00, between 12:00 and 14:00, 12:10 and 13:50 and from 18:00 until 22:00 will bring you a £1 bonus. Meanwhile, every 20 minutes between 08:10 and 09:50 and 18:10 and 21:50 will bring you a £2 bingo bonus. You will have to make sure that you have previously funded your gaming account before you can take advantage of this bonus.
The following free game in this daily promotional deal is called On the House. Make sure to play every half an hour, between 10:30 and 22:00, and you will win a £10 bingo bonus. Thanks to this promotional offer, you have the chance to hit up to £240 in a single day. Before you can play this free game, you will have to make a minimum deposit of £5 in the previous 3 days.
Next in line is the Freebie free game. This game runs every day at 20:45 and gives players the chance to win a £50 jackpot. The prize pool is awarded in the following way: £25 for Full House, £15 for 2 lines and £10 for 1 line. If you want to participate in this free game, you will need to fund your bingo balance and make sure that there are at least 180 days since you have opened your account.
If you think that this may be it with the daily free games of 888bingo, you could not be further from the truth. The promotional free games of the website continue with Sunday Sizzle. Thanks to this offer, players can win up to £250 in cash prize. If you join the 75-24 ball bingo game every Sunday, at 21:00, you will have the chance to sweep the wonderful prize of Sunday Sizzle. The condition you must meet in order to be eligible to use this promotion is to fund your account beforehand.
The last, but certainly not least of 88bingo's free daily games is Magical Mondays. Thanks to this offer, players can start their week with a bang by winning up to £1,000 cash prize which is subjected to no wagering requirements. Make sure that you have topped up your account with at least £5 in the previous 7 days and join the 90 ball bingo game every Monday at 22:30. The winnings by bingo games will be transferred to your Bonus Account and will have to be wagered 4 times before they can be withdrawn. If there happens to be more than one winner on the jackpot game, the prize is divided between players, taking into account the number of tickets.
Related Bonuses
Unibet Bingo £2,000 Super Saturday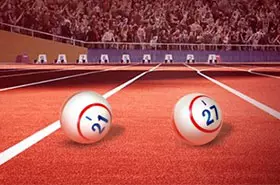 If you are an avid bingo lover who is looking for a decent gaming website, you should consider going to Unibet. As long ...
Read more