ElectraWorks Limited presents roomies with yet another amazing bingo website. Naturally, as all other members of the company's network of bingo sites, it is highly secure and entirely fair. It is certified and licensed, so you can sit back and relax, knowing that your data is safe. Naughty Bingo offers roomies a variety of games to choose from, including all variations of bingo and casino games. Additionally, this website has a ton of promotional offers, one of which is the £5K Fridays.
Full Bonus Terms and Conditions
This promotional game is played in the Big Ben room and is a 90-ball game. It is played every Friday from 6 PM until 12 PM GMT. The Jackpot ranges between £12-£70 and cards cost between £0.05-£0.15. The minimum number of cards a player can buy is 2 and the maximum is 96. Cards can be purchased beforehand and naturally, the game is automated.
The way to win here is pretty standard – if you get a Full House you win the biggest jackpot, if you get Two Lines you get second best, and the last way to win a prize is with One Line. You can win all three in the same game. It is worth noting that the reason why this promotional offer is called £5K Fridays is because that is the amount distributed as the minimum guaranteed bingo game prizes. Since this promotional offer is active for a whole month, it only makes sense that such a large sum is required to keep it going.
The wins from these games can either be in real money or in bonus funds and that depends solely on the player. If they choose to buy cards for the game with cash, then all winnings derived from that purchase will also be in real funds and therefore available for withdrawal. While if they buy cards for the game with bonus funds, then their entire prize will be in the same currency. Of course, in that case, the winnings cannot be withdrawn until the wagering requirements have been met.
The wagering requirements for bingo bonus funds at Naughty Bingo are 4x the bonus. As soon as you have played through your winnings four times, your bonus funds will be transferred to your real-money account. Then, you will be able to withdraw them. There is a cap for the amount of real money you can win from bingo bonuses – £10,000. Naturally, you can only meet the wagering requirement for bingo bonus funds by playing bingo games.
If you are a funded player and still wish to play with bonus funds, you should keep in mind the order of currency consumption at Naughty Bingo. First, your cash balance is used to purchase tickets, then if you win, those funds are used up next, then come your bonus funds, and finally, your free tickets if you have any.
So, in order to complete the wagering requirements for bingo bonus funds, you need to first entirely drain your account of all other funds. You cannot simply withdraw them because that will result in the removal of your bonus, and you need to do it all within 14 days of receiving your bonus or it will expire.
To participate in these games you need to have completed at least one successful deposit in the past and, naturally, as with any other game on this website, you must be over 18 years old to play. Of course, all other terms and conditions of Naughty Bingo apply. Just like any other reputable online gambling site, this one does not tolerate players with duplicate accounts, nor any other form of fraudulent activity.
Related Bonuses
Naughty Bingo £3K Payday Jackpot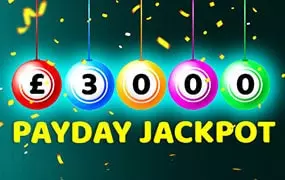 Naughty Bingo offers roomies over 200 games to choose from, including all sorts of bingo variations. This website is a m...
Read more