With Foxy Bingo it is extremely easy to find bingo games with great value. Being one of the best bingo websites in the UK, it gives players the chance to find the game which suits their preferences the best. Hosting more than 40 bingo rooms, Foxy Bingo will give its patrons the opportunity to explore different options, purchase tickets with low prices and enjoy generous payouts. If this is not enough, you will definitely appreciate that the website is also offering a wide range of other games which include classic table games, scratchcards and slots. In order to make the bingo experience of its members more prosperous, the website has prepared several promotions.
Full Bonus Terms and Conditions
At Foxy Bingo, virtual players have the chance to play games that offer quite the bountiful prizes. Playing on linked bingo games provides the opportunity to enjoy a more rewarding game any time you join one of the linked bingo rooms of the website. This promotion is available only to players who have funded their account. The least amount that patrons are required to make at Foxy Bingo is £10. You will be able to register and play at this bingo website only if you are 18 years of age or older. In addition to that, you will be able to play only if you do not reside in one of the restricted territories that do not allow online gaming.
The price for a single ticket in the linked bingo rooms is 10p and players can opt to play with as little as one ticket or purchase up to 96 tickets per game. Members of Foxy Bingo can use both their cash and bonus funds to buy tickets. Bingo bonus is subjected to wagering requirements of 4x. Bingo enthusiasts will also have the chance to pre-buy their tickets for upcoming linked games. You will be able to find the linked games of Foxy Bingo in several bingo rooms. For those who enjoy playing 90 ball bingo, there are the Forever Foxy, Foxy Link (pre-buys), and No Fox Given rooms. Foxy Loves and Link 75 (pre-buys) are the rooms where you will find 75 ball bingo linked games and for those who would like to play 5-line variants, there are the Foxy Hideaway and Fox Line (pre-buys) rooms.
If you want to play 90 ball progressive bingo, you can do so on every hour between 8am and 12pm. The first four games starting at 08:00, 09:00, 10:00 and 11:00 offer a £50 jackpot, while the prize for the 12pm game is £100. Between 8am and 11am the prize is broken down in £10, £15 and £25. The 90 ball jackpot linked games of Foxy Bingo are played between 13:00 and 17:00 and offer a prize pool of £150 for each game. The prize is divided into £25, £50 and £75.
In addition to these bingo linked games, there are also 90-ball variants that offer a payout for 1TG and 2TG. Those are played between 6pm and 11pm. The games starting at 18:00, 19:00, 22:00 and 23:00 offer a jackpot of £175, while the 8pm and 9pm games reward a prize of £275. The £175 prize is broken down into £15 / £30 / £100 and players are paid £15 for 1TG and £15 for 2TG. The £275 jackpot is comprised of £25 / £55 / £140 and £35 for 1TG and £20 for 2TG.
The Foxy Loves 75 ball bingo games are played on every two hours between 3:30pm and 9:30pm. The 3:30pm and 5:30pm games offer a jackpot of £100, while the 7:30pm and the 9:30pm games offer a prize of £150. The Foxy Hideaway, which is 75 ball 5 line bingo game, is being played on every two hours between 4:30pm and 10:30pm. The 4:30pm and 6:30pm games reward a jackpot of £100, while the 8:30pm and 10:30pm bingo games offer £150. The £100 jackpot can be broken down to 1L £10, 2L £15, 3L £20, 4L £25 and FH £30. The prize pool of £150 is divided into 1L £10, 2L £20, 3L £30, 4L £40 FH £50.
Related Bonuses
Foxy Bingo £250 Foxy Cubs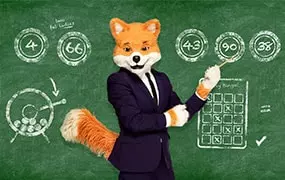 Foxy Bingo is home to a vibrant community of bingo players who gather together to play a range of exciting 75-ball and 9...
Read more