Fancy Bingo is a prime bingo website, owned and operated by Cassava Enterprises, more commonly known as 888 Holdings. This company is one of the largest online gambling operators in the world and it currently owns hundreds of unique websites. As far as Fancy Bingo is concerned, users get to enjoy an excellent bingo experience, with many different bingo rooms and a plethora of enticing promotional offers running on a regular basis. Focusing on the promotional aspect of things, we would like to bring to your attention the Plants of Love offer and below you will find everything that you need to know about this event.
Full Bonus Terms and Conditions
Plants of Love runs on a consistent weekly basis every day from 19:00 to 11:59 UK time the next day. The event takes place in the 90 ball bingo room and the first game comes with a worthwhile prize pool. It is quite large, totalling £1,000 for all winners. The Full House winner receives £500, the 2 Line winner gets £300, while the 1 Line winner will gain £200. This is one of the largest prize pools in the online bingo scene and it will certainly be worth your while. In the event that there are multiple winners for the same prize, the money will be divided equally between all eligible recipients of that award.
However, the fixed prize pool is not the only reward that you can gain from the Plants of Love offer. The games following the one at 19:00 feature a flexible jackpot. Users can also compete for a wager jackpot, whose size is determined by the number of players active in that moment. This jackpot can become quite large if enough users join so keep an eye on it.
The cost of taking part in the Plats of Love promotion is quite low and just about anyone can afford it. A single ticket for the 90 Ball Bingo Room goes for £0.05 a piece. While you can become a Full House winner with a single ticket your chances will improve much more by purchasing more of them. In fact, you can buy up to 96 tickets for the purposes of this event and that will only set you back by £4.80. Taking into account how much you stand to win, even if it is one of the lower prizes, then this is a small price to pay.
Overall, the Plants of Love promotion is quite enticing, considering that it is one of the cheapest out there and it offers a substantial prize pool. Winning £500 on a £4.80 maximum investment is by no means a bad deal and the 2LN and 1LN prizes are quite good as well. Even if you do not win in the first room, there is another jackpot that you strive for. That one does not have a set value, but if enough players join is should be worth it.
Other great aspects of the promotion are that it is available for the better part of the day, starting early in the night and continuing until noon the next day. Most promotions of this kind usually are available for an hour or so, once per week. Plants of Love stands out from the rest in this regard and offers better value for money than many of them. Furthermore, the prizes are all paid out in cash, which you can do with as you please. There is very little not to like about the Plants of Love promotions and it is one of the reasons why you should consider Fancy Bingo.
Related Bonuses
Fancy Bingo £250 Legs Eleven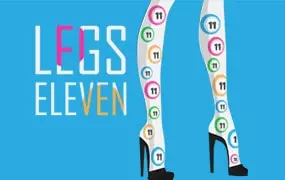 Looking for worthwhile bing bonuses? In such a case, you should consider Fancy Bingo, a fun and intuitive bingo website ...
Read more