Interactive players who are on the lookout for a gaming website that offers a real wealth of bingo games should contemplate heading to Fancy Bingo. Considering the fact that the operator has such a long experience in the field, it comes hardly as a surprise that it knows how to meet the demands of all types of players.
The operator undoubtedly knows how to make sure that its patrons will enjoy their stay at Fancy Bingo as it also presents them with a variety of promotions. Flight of Fancy is one of the options you can pick from. The promotional offer is available every Monday and it gives players the chance to sweep a jackpot that amounts to £600.
Full Bonus Terms and Conditions
Interactive players who have already registered with Fancy Bingo and have topped up their gaming accounts are enabled to make use of Flight of Fancy, which is a promotional offer that comes with a £600 jackpot. Still, in order to take part in the ongoing promotion, you should keep in mind that you need to transfer at least £5 to the balance of your account. One more thing that is worth mentioning is that you need to be over the age of 18 in order to take advantage of the promotional offer.
If you satisfy all of these criteria, you can now take part in Flight of Fancy. In order to do this, you simply need to join the specific bingo game every Monday at 09:30 pm and to seize your chance to sweep the prizes. It is important to note that the game that is included in the promotion features 5 lines and that it will pay out £120 for each of the lines you will manage to form. This, on the other hand, means that you definitely stand a good chance of sweeping the jackpot.
As it was previously stated, Flight of Fancy is a promotional offer that is available solely to interactive players who have already funded their gaming accounts. In this relation, we should also mention the fact that gambling enthusiasts who are participating in the promotional offer, are allowed to purchase a maximum of 96 bingo tickets. It should also be noted that the price of a single bingo card is £0.50.
An important detail concerning the promotional offer is that if you join it, you will have the chance to experience only the specific 75-ball 5-line bingo game. The specific bingo game pays out £120 real cash for each of the winning combinations that include a Full House, 1 Line, 2 Lines, 3 Lineas, and 4 Lines, which means that the total amount of the prize you are offered is £600. If the winners of the game are more than one, the aforementioned prize will be divided evenly between all players who possess winning bingo cards. In the event that you have enjoyed a fruitful betting session and you have managed to generate some profit, you need to know that your cash prize will be paid into your account after the end of the game.
Perhaps, you have already noticed that the prizes from the particular promotional offer are advertised in pound sterlings. If you have participated in the ongoing promotion but you have set up your gaming account in a different currency such as, for example, euros, or any of the other supported currencies, you need to know that your winnings will be paid to you in the currency you have picked when you have registered with Fancy Bingo.
Gambling enthusiasts who are intent on taking advantage of Flight of Fancy should keep in mind that the operator will reserve the right to make changes on the promotional offer and even to cancel it.
Just like most of the other gaming websites, Fancy Bingo also does not allow all its patrons to take part in its ongoing promotions. Interactive players who are domiciled in countries that include the United States of America, Israel, Turkey, Spain, France, Italy, Denmark, Belgium, Gibraltar, and Antigua are not permitted to join Flights of Fancy.
Related Bonuses
Fancy Bingo Spinners are Grinners Bonus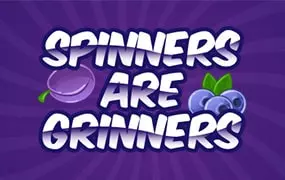 Fancy Bingo is a part of the Cassava Enterprises Limited group, granting to players worldwide only high-quality gambling...
Read more