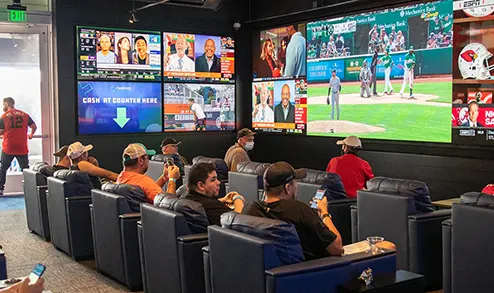 It has been two years since the sun-drenched Grand Canyon State legalized sports betting. Following Governor Doug Ducey's signing of bill HB 2772 into law in April 2021, the popular form of entertainment became legal in Arizona in September 2021. The industry flourished at a hectic pace with more than $7.1 billion worth of bets placed during the first year of legal sports wagering within the state. This figure has now risen to $11 billion marking the second anniversary of the sector in Arizona.
Sports betting enthusiasts can currently wager on their favorite markets via more than 15 legal sports betting apps, with brands such as BetMGM, FanDuel, and Caesars Sportsbook at the forefront. There is no shortage of retail sportsbooks across the state either, although online bets make up the lion's share of wagering.
Arizona is home to five major professional sports teams – Arizona Cardinals (NFL), Arizona Coyotes (NHL), Phoenix Suns (NBA), Arizona Diamondbacks (MLB), and Phoenix Mercury (WNBA), as well as several minor league and semi-pro teams. This poses many opportunities for placing a varied range of wagers.
To promote sports wagering, operators rely on risk-free bets, which are among the most common promotional offers. Popular personalities are yet another resource that is utilized by big gambling brands.
While sports betting's rapid expansion in Arizona has been a source of economic growth and many job opportunities within the state, the endeavors to deliver sufficient responsible gambling resources to punters are not to be underestimated either.
Responsible Gambling Resources in Arizona
Gamblers can seek professional help in case they identify any gambling disorder they might be struggling with through the Arizona Department of Gaming and the Arizona Council of Compulsive Gambling. Much like throughout the rest of the country, there is a tendency for younger individuals in Arizona who are seeking assistance from therapists or counselors.
As reported by the Arizona Council on Compulsive Gambling, the most prevalent portion of people who seek help includes young male gamblers or members of their families. While gambling is a harmless form of entertainment and recreation for most people, it can become a severe issue for the most susceptible individuals.
A range of different self-assessment tools, treatment, and recovery support are readily available for those who have identified a gambling-related issue and have realized the necessity of dealing with it properly.
There is a very fine line between sports betting for fun and developing a serious gambling addiction, so seeking professional help is of great importance. However, the desire for treatment of gambling disorders, like with any other type of addiction, should be initiated by the affected individual, otherwise, it would not be efficient.