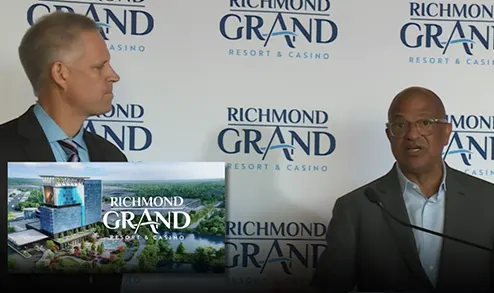 Last week, Richmond city officials examined the joint project of Churchill Downs, Inc. and Urban One for the redesign of Richmond Grand Resort and Casino. They familiarized themselves with the plans in detail and did not hide their enthusiasm about a socially responsible cause they were about to unveil. The forthcoming referendum on November 7, 2023, will show if the local citizens will approve or reject the $561 million casino proposal.
Richmond Mayor, Levar Stoney, is an ardent advocate of the city becoming a popular casino destination. At a press meeting held on September 5, 2023, at T. B. Smith Community Center, he communicated the budget plans if the project came into existence.
Stoney announced plans to establish the Richmond Childcare and Education Trust Fund which will be financed by the city's casino tax revenue. The funds will be allocated to early childhood programs and initiatives, more specifically, two new childcare centers, each with a capacity of approximately 100 children.
Should Richmond residents approve the casino resort, the projected tax revenue funds will amount to about $30 million annually.
Approximately $18.5 million (out of $26.5 million) of the casino's payment will be directed to the Childcare and Education Trust Fund. Each of the childcare centers will cost $7 million, with $4.5 million used to establish the fund. The remaining $8 million will be utilized to improve the city's open spaces used for sports and recreation.
Stoney believes that the projected tax revenue will ensure a stable money flow into the city and will eliminate the need to raise taxes. Opponents argue that the city's mayor and officials are manipulating public opinion through the said childhood development initiatives.
Richmond Grand Resort and Casino Project
In November 2023, Richmond residents are about to approve or reject the Richmond Grand Resort and Casino project. As a matter of fact, this is the second proposal by Urban One. The previous one, for ONE Casino and Resort, was repudiated during last year's referendum. The $562 million venue will be located in South Richmond and will offer various gambling products, including a sportsbook, nearly 1,800 slot machines, more than 100 table games, and many poker tables. In addition to the various sources of gambling entertainment, the facility will be equipped with a 3,000-seat concert venue, a 250-room 4-star rating hotel, and an open-air park.
Richmond, along with four other cities (Bristol, Danville, Portsmouth, and Norfolk) were identified as financially disadvantaged areas in need of an economic boost. All of the said cities, except for Richmond, have approved the respective casino development projects. It remains to be seen if Richmond will follow suit and if the revamped project will get the locals' approval this year.