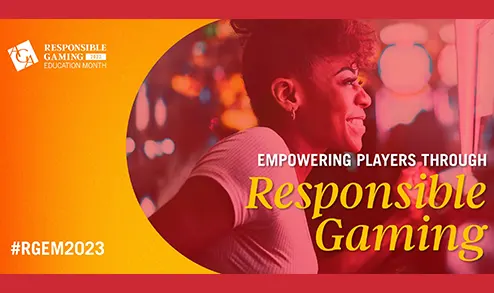 On September 5th, the American Gaming Association (AGA) released survey data on responsible gambling awareness among American individuals who partake in gambling activities. The results indicate that the vast majority of gamblers are informed about the existence and benefits of responsible gambling tools.
The results are less promising when it comes to the actual utilization of the said tools, however, revealed AGA Vice President Cait DeBaun in a webinar titled "Elevating responsible gaming: How the industry can sharpen its player protection capabilities."
Various techniques have been attempted in the efforts to increase the appeal of responsible gaming tools to consumers, with celebrity endorsement being one of them. The year 2021 saw the release of Caesars' ad campaigns in partnership with the Manning family. The said campaigns aimed to promote the practice of gaming responsibly. DraftKings, another popular player in the online sports betting scene, sought out professional wrestler The Miz and skateboarder Tony Hawk in 2022 for their own campaign that aimed to increase player awareness and interest in responsible gambling.
Although both campaigns were met with positive reception, the information revealed in Cait DeBaun's recent webinar suggests that both the tools and their promotion have a long way to go in making players more willing to give responsible gambling tools a try. DeBaun also emphasized the need to be careful with how responsible gambling is marketed, as the wrong approach could backfire and encourage customers to seek illegal means of gambling. She went on to note the importance of ensuring that players see responsible gambling as a comfortable enhancement to iGaming and betting as opposed to making users feel like they are being monitored.
It is important to remember that the legality of celebrity endorsement of gambling, even when it involves responsible gambling tools, can pose a problem in certain jurisdictions. In Canada, for instance, celebrity endorsement is prohibited within the jurisdiction of the Ontario province. Innovative techniques that branch from such promotions are, therefore, a necessity in such locations.
Responsible Gambling Tools
Although responsible gambling tools have yet to bring the desired results, when it comes to player engagement in safe gambling, it is important to emphasize that the tools themselves are excellent. They have been developed with a focus on player convenience and ease of use, and efforts to make the experience pleasant, useful, and easy to customize have resulted in the implementation of a variety of tools.
Deposit limits, for starters, are what allow gamblers to set restrictions on how much money they can deposit into their casino or sportsbook accounts. Time limits serve as another popular way of assisting gamblers in developing healthy wagering habits. Other AGA-approved tools include wager limits, i.e., control of how much one can bet, and loss limits, which prevent players from making further bets, have also been implemented.
All of the aforementioned tools have seen widespread integration by gambling companies that cater to the North American iGaming and sports betting markets, but their true effectiveness will be realized once their utilization by the average gambler becomes more common.