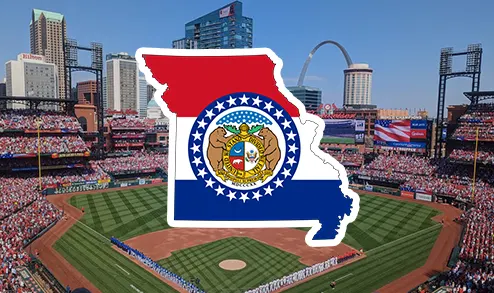 As the situation of Missouri's sports betting legislation remains in stasis after multiple failures of the Missouri Senate to address the matter in a State vote, a coalition of six Missouri sports teams proposed four petition initiatives in an effort to make remote and land-based sports betting legal.
Formed by the St. Louis Cardinals, Kansas City Chiefs, Kansas City Royals, Kansas City Current, St. Louis City, and the St. Lous Blues, the coalition aims to add a total of four petitions to the 2024 ballot, each of which has to do with sports betting. If a statewide vote results in the implementation of all proposed changes, it would allow sportsbooks to acquire licenses and operate legally within Missouri. The petitions were filed on September 8, and it can take up to 60 days for the Missouri Secretary of State to review them.
A license will cost $250,000 per applicant when it comes to brick-and-mortar sports betting establishments. It will last for 5 years, and licensees who wish to continue operating within the state will have to pay a renewal fee of $250,000. As for mobile sportsbooks, they will be required to pay $500,000 to acquire a license, i.e., twice the amount of retail sportsbooks. Remote betting licenses are also valid for 5 years, and the renewal fee is $500,000.
In addition, the petitions propose a 10% tax on the gross gambling revenue (GGR) of each licensed entity. The said funds will be utilized to cover any potential expenses of Missouri's appointed gambling regulator, should the necessity arise. The revenues from GGR-based fees imposed on license holders will also be utilized for a Compulsive Gambling Prevention Fund that will reach up to $5 million in size. Any funds that remain after the money has been appropriated to the aforementioned causes will go toward educational institutions within the state of Missouri.
Sports Betting Legislation in the USA
Although sports betting is legal within the majority of states in the USA, Missouri is among the 13 that have yet to legalize either land-based betting or remote sports wagering. Most of them share Missouri's fate in having had multiple failed attempts to legalize the practice of wagering on sports. In North Dakota, for instance, there was a sports betting bill that failed to pass in 2021. California was also close to achieving a regulated sports gambling market as recently as 2022, but voters rejected the proposals.
While the above examples might seem discouraging to aspiring Missouri sports bettors, it seems things are looking up for other states. Namely, a bill that will allow sportsbooks to operate within Maine was signed in 2022, and sportsbooks are set to begin licensed operations in November 2023.