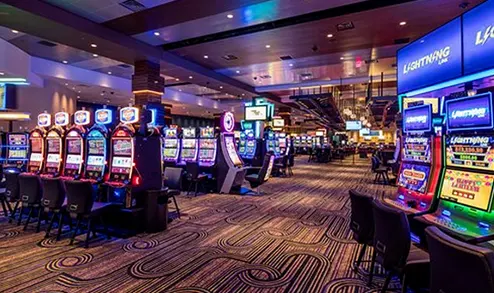 The Iowa Court of Appeals has reversed the conviction of a woman from Cedar Rapids, who allegedly helped her boyfriend, Anthony McNeese, to avoid paying $41k in unpaid fines and $1,300 in child support obligations after winning a $4k slot machine jackpot in Waterloo in 2020. During a 2022 trial, a Black Hawk County jury convicted Sydney Leiann Slaughter, 35, of pretending to have won the slot jackpot.
Slaughter and her boyfriend, Anthony McNeese, visited the Isle Casino Hotel in Waterloo in November 2020. According to prosecutors, McNeese won a $4,000 slot machine jackpot. However, he owed the state $41k in fines. Besides, he had $1,300 in unpaid child support obligations. Court records stipulate that the man's winnings would go to repay part of the amount he owes. To save her boyfriend the disappointment of bidding farewell to the money, Slaughter decided to tell the casino staff, who came to verify the jackpot, that she wanted 95% of the winnings to be applied to her federal income tax.
Casino employees decided to check the surveillance camera footage. Court records claim that Slaughter allegedly admitted that it was McNeese who had been playing. Thus, McNeese claimed the jackpot and applied 95% of it to his federal income tax.
Why Slaughter Had Her Criminal Conviction Off?
Slaughter, on the other hand, was convicted of a false claim of winning in 2022. Slaughter's attorney, however, argued that the state prohibited the practice of sharing and passing off a winning to avoid paying offsets in 2022, or two years after the incident. The defense stated that the law applied to attempts to claim a win to deceive the casino or the actual winner.
The court rejected the defense's argument but found that the state could not prove that Slaughter did not make the wager thanks to which her boyfriend won the jackpot. According to Judge Mary Tabor, Slaughter might have not pushed the button but might have funded the wager that led to the jackpot. Therefore, the court did not exclude the option that Slaughter might have been the one who made the wager. Surveillance video footage proved that Slaughter and McNeese were a gambling team.
According to the Court of Appeals, the trial court made a mistake by allowing an agent for the Detective Chief Inspector to testify that making a wager comes down to pressing the button on the slot machine. As a result, the case was sent back to the district court to vindicate Slaughter. Appeals Court Judge Sharon Soorholtz Greer, however, disagreed with the ruling and wrote a dissenting opinion, stating that the evidence was enough to incriminate the woman.