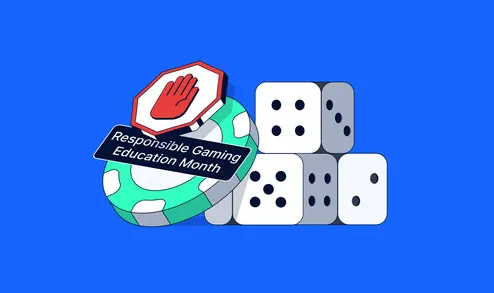 This Tuesday, Sumsub, a global leader in user verification, anti-fraud, and AML compliance, revealed details regarding the launch of its newest automated responsible gambling tool. It would be beneficial for gambling operators who strive to cut the associated costs and simultaneously abide by the regulatory requirements of the industry.
Sumsub's product release boasts perfect timing, considering the American Gaming Association (AGA) celebrates its 25th anniversary this September. The first month of fall has been labeled as Responsible Gaming Education Month by the organization.
In view of the fast-paced transformation of the gambling industry, technological advancements, constant regulatory changes, and rising awareness of responsible gambling practices, the AGA has designated a special theme for each week of September.
Starting with the 'Empowering Customers to Play Responsibly' Week, followed by 'Legal, Regulated Gaming Protects Players' Week and 'Building a Responsible Gaming Culture Within' Week, the month ends with 'Advancing Responsible Gaming with Research' Week.
In keeping with AGA's initiative, Sumsub unveiled its product that would facilitate companies within the iGaming realm in resolving their compliance-related needs.
It is a highly-performing automated tool by a leading verification provider to premier on the iGaming scene. Sumsub's product will allow casino and sports betting operators to provide a safe and transparent gambling environment to their customers.
The product features several key characteristics. It includes an adaptable know-your-customer (KYC) setup, as well as functionalities with a focus on reviewing betting patterns and monitoring players' gambling habits. As far as the globally established responsible gambling practices are concerned, the tool prevents payment scams, identity thefts, and money laundering schemes.
Furthermore, the automated character of the tool would allow gambling operators to substantially reduce their responsible gambling expenditure and eliminate potential human errors.
Sumsub Signs Strategic Partnership with Online Gambling Operator 10bet
Sumsub signed a strategic partnership with online sports betting and games operator, 10bet, earlier this year in June. It enabled the gambling platform to streamline its identity verification procedures and onboarding processes. More specifically, 10bet enrolled in Sumsub's 1click onboarding product for its Brazilian market.
The tool allowed the iGaming company to conduct instant verifications of its Brazil-based bettors without requiring any documents. These instant checks are possible thanks to Sumsub's access to Brazil's government databases, providing detailed information on citizens' names, residential addresses, photos, and dates of birth.
As Nir Saadon, Chief Operations Officer at 10bet commented, the cooperation with Sumsub had instantly brought about increased user pass rates while reducing fraud risks to a minimum and promoting responsible gambling practices.
Andrew Server, co-founder and Chief Executive Officer of Sumsub also shared his contentment with the new partnership. He confirmed that the Brazilian market was of major significance for the company and that it continually strived to keep up the high quality of its services.