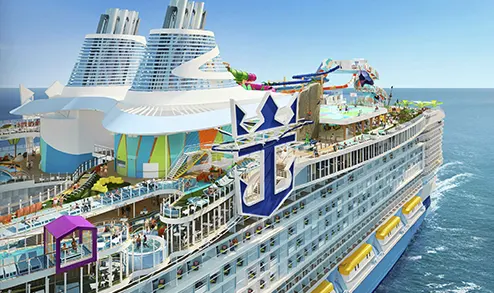 Royal Caribbean International, which owns six of the world's biggest cruise ships (also known as the Oasis-class vessels), has converted the jazz clubs aboard into smoke-free casinos with the help of the interior design agency Trimline while the ships were in service. Currently, three of the company's cruise ships offer non-smoking gambling areas instead of jazz clubs aboard, including Harmony of the Seas, Oasis of the Seas, and Allure of the Seas.
All players who do not want to inhale toxic secondhand smoke while enjoying their favorite games are welcome aboard Harmony of the Seas, Oasis of the Seas, and Allure of the Seas. Although the "Jazz on 4" clubs located in each of the Royal Caribbean's cruise ships were popular venues for live music, the company decided to transform them into smoke-free casinos due to the growing demand for smoke-free gambling areas.
The change happened during the ships' latest sail and took approximately two weeks on each ship. Thanks to Trimline's expert team of joiners, electricians, builders, decorators, IT specialists, and data experts, the work did not affect the cruisers' onboard experience. Billy Morton, Trimline's project manager, said that the results are impressive and will attract the attention of every gambler.
Is There a Smoke-Free Gambling Space Aboard the Other Three Oasis-Class Vessels?
Royal Caribbean's decision to reduce the smoking areas onboard reflects younger cruisers' preferences. Data from the U.S. Centers for Disease Control and Prevention show that the number of U.S. adults who smoke has declined from 20.9% in 2005 to 11.5% in 2021. Besides, the company's cruise ships are more oriented toward families, providing them with various amenities and awe-inspiring designs.
It is still unclear whether the company will modify the look of the other Oasis-class cruise ships. Aboard Symphony of the Seas, cruisers will find a jazz club on Deck 4. Wonder of the Seas is the world's largest cruise ship, which already features a non-smoking gambling space called "Golden Room" on Deck 4. The company's newest Oasis-class ship is Utopia of the Seas, and it will be launched in July next year. The cruise ship features space called "Casino Royale Non-Smoking".
Royal Caribbean owns a total of 25 cruise ships, with each featuring a gambling area called Casino Royale. The onboard casinos offer various slots and table games that will correspond to the preferences of high-rollers as well as risk-averse players. Cruisers can start gambling for real money once the ship is at least 12 miles away from the U.S. coastline. Wonder of the Seas is the cruise ship with the largest Casino Royale, hosting 456 slot machines, 27 table games, and a high-stakes poker room.