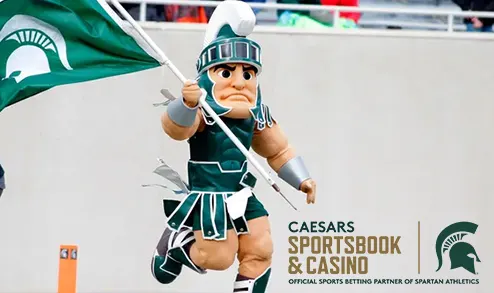 Several Michigan State University (MSU) faculties have joined forces and introduced a petition demanding to terminate the controversial $9 million partnership between the university's athletic department and Caesars Sportsbook. The petition garnered 154 signatures soon after it was posted at 10:15 am on Tuesday. Current and former faculty members as well as students and parents signed the petition, supporting the idea that the university should end its partnership with the betting company.
Why the University Must Terminate its Partnership with Caesars Sportsbook?
The initiator of the petition, Community sustainability professor John Kerr, explained that the university's goal is to protect its students' interests and help them overcome mental health issues caused by the mass shooting on MSU's campus. Mr. Kerr explained that the partnership between the university's sports department and Caesar Sportsbook stimulates students to participate in gambling activities, which can be addictive.
In recent news articles, it was reported that MSU is one of the few US universities that partner with a gambling company. The petition argues that the university should not compromise with students' well-being, hence why this partnership must end. Professor Kerr shared the petition with MSU's Director of Global Ideas, Allan Hruska, who sent it to administrators and the Senior Associate Provost Thomas Jeitschko.
Mr. Jeitschko responded that the petition reflects Interim President Teresa Woodruff's ideas. At a Faculty Senate meeting held this February, Ms. Woodruff discussed the university's deal with Caesars and said that her staff would examine this partnership.
Caesars' Partnerships with US Colleges
It was Athletic Director Alan Haller who negotiated the agreement between MSU and Caesars Sportsbook. Under the deal, Caesars is MSU Athletics' official sports betting and iGaming partner. The partnership provides Caesars Sportsbook with the opportunity to gain exposure through MSU's sports facilities.
Under the deal, new premium seating and tailgate areas will use Caesars branding. Besides, the betting company will receive signage at football, basketball, and hockey games. In return, Caesars will treat Spartan fans to special promotional offers and fund student-athlete responsible gaming education, student scholarships, as well as internship and professional development opportunities for MSU students after a career in the sports industry.
However, this is not the first deal between Ceasars Sportsbook and a college. Caesars signed a deal with Louisiana State University in September 2021, just before the official launch of sports betting in the state. In August 2021, the betting company announced that it is to partner with Arizona's biggest college football game – the Fiesta Bowl.
In November 2022, Sen. Richard Blumenthal (D- Conn.) requested Caesars Entertainment to stop advertising its products on college and university campuses. As a result, some big betting companies such as BetMGM, DraftKings, and FanDuel have distanced themselves from college campuses.