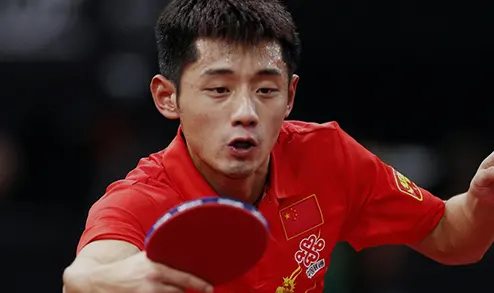 Chinese Olympic gold medalist Zhang Jike has been accused of sending intimate videos of his ex-girlfriend Jing Tian, a famous Chinese actress, to pay off his gambling debts. Although Zhang denied the accusations, the player lost some of his sponsors, including the Chinese sports brand Anta.
Last week, it was revealed that the table tennis player Zhang Jike has been suffering from problem gambling for quite some time. Rumors that he shared private videos of his ex-girlfriend with a loan shark to whom Zhang owes a massive gambling debt emerged on Chinese social media. It was reported that the player had shared the videos to pay off part of his debt.
An Award-Winning Journalist Makes Interesting Revelations
The story became even more interesting after the award-winning journalist Li Weiao, who works at the Economic Observer newspaper, confirmed that the rumors were true. The journalist revealed that Zhang owes more than 5 million yuan ($728,000) and published a photo of a loan contract as proof.
According to Li, the former table tennis player lied to the creditor that he had a joint property with his ex-girlfriend. The lender allegedly tried to blackmail Jing, but his attempt failed because the actress took him to court, where Zhang admitted that he had sent the videos. The loan shark was sentenced to seven years in prison in December 2020.
Li shared that he met Zhang's creditor in 2020 in the central city of Wuhan, who confirmed that he had received several private videos of Zhang's ex. The journalist said that he had been investigating Zhang's debts for more than two years. Li also elaborated that Zhang had to fly overseas because casinos in mainland China are prohibited.
Zhang Suffers a Reputation Hit
The scandal made many of Zhang's fans turn against him. At the same time, many social media users have supported Jing, explaining that the former table tennis player had violated her privacy and he has to apologize. The actress has not commented on the case yet.
On Friday, Zhang's lawyer issued a statement, according to which everyone who has infringed the player's reputation will be held liable. Zhang's representative asked the public to stop spreading rumors and misleading information about him.
The heatedly discussed scandal prompted several of Zhang's sponsors to cut ties with him. Anta was among the first brands which announced that it terminated its sponsorship deal with the table tennis player. The sportswear company has deleted all social media posts associated with Zhang and removed the table tennis player from its list of brand ambassadors.