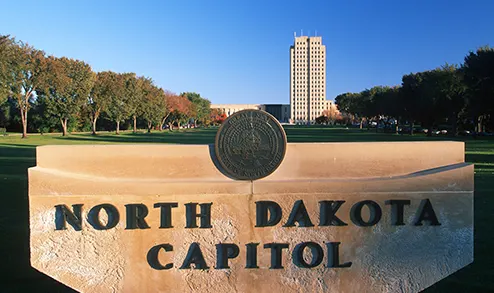 This Monday, the state Senate voted against a bill sponsored by Rep. Greg. Stemen, R-Fargo, that would have legalized sports betting in North Dakota. The legislative effort failed to pass the House on a 16-30 vote after it was approved by the House of Representatives by a narrow margin of 49-44.
Previous Attempts to Regulate the Sports Betting Industry
The Senate killed House Concurrent Resolution 3002, seeking to pave the way for legalized sports betting in the state. If the measure was approved by the Legislature, it would have been presented on the November 2024 general election ballot so voters could decide whether to allow sports betting in the state or not.
All previous attempts to legalize sports betting in North Dakota have failed. In 2021, a measure seeking to regulate the industry passed the North Dakota House but was killed in the Senate twice. In 2019, lawmakers introduced HB 1254, seeking to regulate sports betting and task the state Attorney General with overseeing the industry.
In February, the Senate killed legislation that would establish a sports betting task force responsible for developing an implementation plan for sports betting regulation. Last month, the Senate voted against amendments to the resolution introduced by the Senate Judiciary Committee that would require the Legislature to authorize betting on professional sports only. In January, the House voted against the proposed amendments, too.
Backers and Opponents of the Bill Clash in the Senate
The legislation has attracted staunch endorsement and stalwart opposition. Proponents of the bill pointed out that by regulating the sports betting industry, the state will boost its coffers and ensure better consumer protection. They added that the fact that sports betting is illegal in North Dakota does not stop punters from wagering on various sporting events.
Some senators who opposed the bill explained that they viewed the measure as a way to encourage gambling. Sen. David Rust, R-Tioga, said that gambling in the state has already grown exponentially and that he was against expanding the industry. Sen. Janne Myrdal, R-Edinburg, said that the sports betting industry uses athletes, turning them into "human commodities".
Backers of the legislative measure explained that the said measure only aims to regulate the industry and ensure consumer protection. Sen. Scott Meyer, R-Grand Forks, said that the bill does not seek to expand the industry because many people in South Dakota already bet on sports. Meyer told the Senate that the state cannot protect people who need help by not taking action.
According to American Gaming Association data Stemen, 138,000 North Dakotans wager over $300 million on sports annually. At the same time, offshore sportsbooks generate $30 million in revenues without paying taxes and license fees to the state. Currently, only tribal casinos in North Dakota are allowed to offer online sports betting to locals under tribal-state compacts.