With more than 2 billion active users per month, Instagram is among the most powerful social networks, ranking in the top five on a global scale. From their personal lives to their brand partnerships and everything in between, celebrities, influencers, and sports stars use the immense potential of the platform to enhance their popularity and reach out to their fans.
Eager to find out which UK celebrities earned the most on Instagram in the month of March, BonusInsider conducted a study which revealed several important indicators. We considered factors such as the total number of Instagram followers, percentage of fictitious followers, and engagement rate. In order to figure out the top UK earners for March 2023, we worked out the sponsored posts and the estimated earnings per post for each of the big names on our list.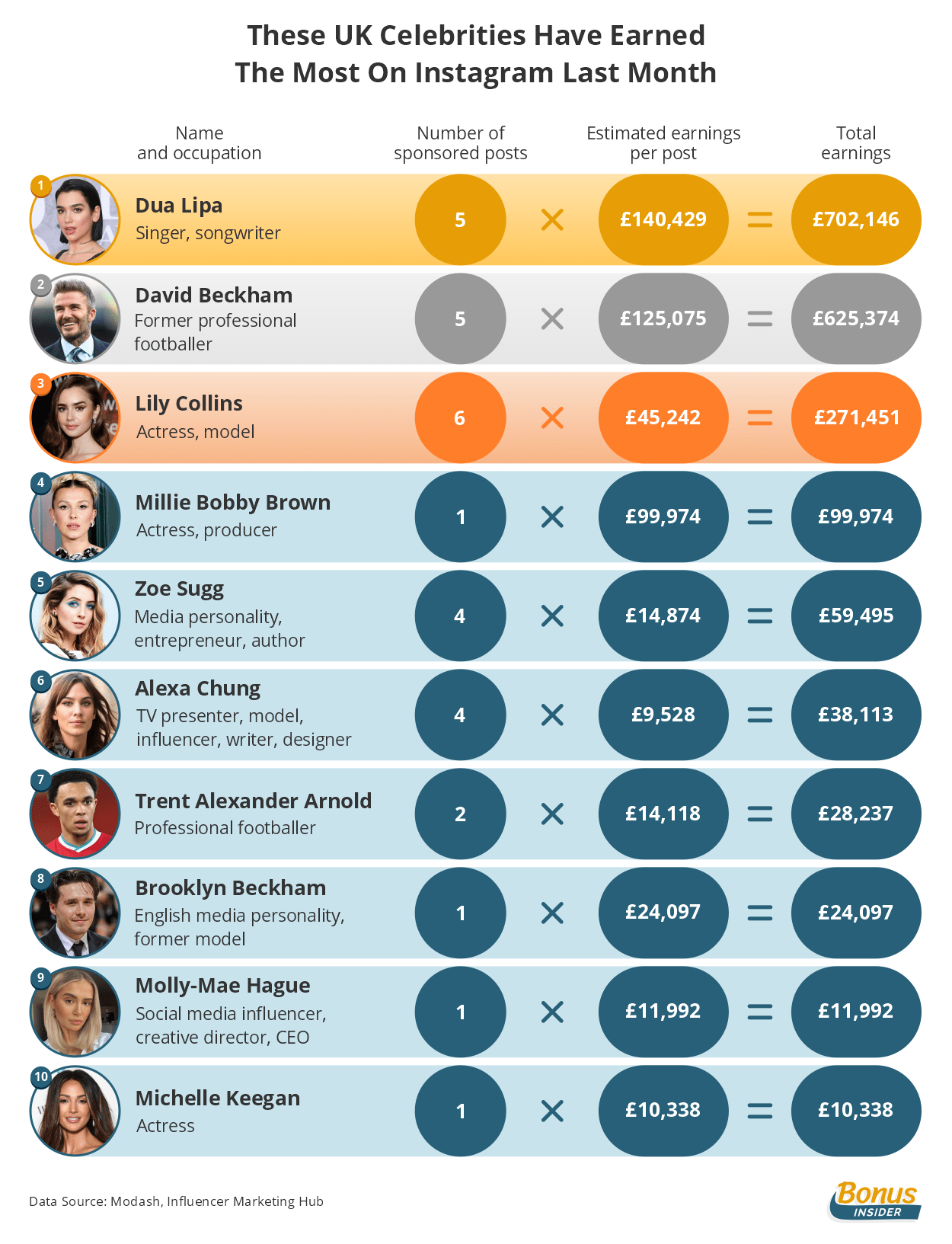 Methodology
For our study, we used two analytics tools, Modash.io and Influencer Marketing Hub.
Through the first one, we checked the percentage of fake Instagram followers for each of the UK celebrities on our list. We also considered the engagement rate of each Instagram account.
We then reviewed each of the profiles and the number of sponsored posts for March 2023.
The second tool helped us compute the monthly earnings of each celebrity by providing the estimated earnings per post. Having already reviewed the accounts, we were then able to calculate monthly proceeds.
These UK Celebrities Have Earned The Most On Instagram Last Month (March 2023)
Dua Lipa
Dua Lipa rose to fame in 2014, and over the years she has amassed an impressive suite of accolades from the music industry, including but not limited to six Brit Awards, three Grammy Awards, and two MTV Europe Music Awards. With a total Instagram follower count of 87.7m, she occupies the top position on our list, not only by the number of total followers but also by estimated monthly earnings from the social platform.
Although she is believed to have 24.98% of fake Instagram followers, her account features a good engagement rate of 2.04%. The mezzo-soprano singer appears in a total of five sponsored posts for March 2023, including high-end fashion brands. With earnings per post estimated at £140,429, the Grammy winner's total proceeds for March reach £702,146. The "Don't Start Now" singer has also shared pictures of her weekend in Ibiza, giving her a wonderful opportunity to combine work with leisure.
David Beckham
As David Beckham is one of the most popular UK former professional footballers of all time, it is no wonder that he occupies the second position in our ranking of the highest Instagram earners for March 2023. Every avid football fan is aware of Beckham's accomplishments throughout his career as a professional footballer, including 6 Premier League titles. Currently, he is the president and co-owner of Inter Miami and co-owner of Salford City.
Beckham's post-football professional activities include his endorsement of brands such as Adidas and TUDOR Watch. With 5 sponsored posts for the month of March, estimated at £125,075 each, as suggested by our data, the ex-footballer's total earnings amount to £625,374.
Lily Collins
Born in Guildford, Surrey, England to the family of Phil Collins and Jill Tavelman, Lily Collins is a British and American actress and model. Interestingly, one of the actress's March Instagram posts features her seeing her father get an Academy Award for the song "You'll Be In My Heart", which was written for her. Part of the films and TV shows she stars in include Emily in Paris, Love, Rosie, Mirror Mirror, The English Teacher, and The Blind Side.
Lily Collins' March Instagram posts include quite a lot of travel photos from her trip to Japan. Professionally, she is featured in posts for the high-end cosmetic brand Lancôme and hair product and hair care brand Living Proof. As per data from Influencer MarketingHub, the estimated earnings per post for the actress amount to £45,242, and with 6 sponsored posts, her March proceeds from the social network reached £271,451.
Millie Bobby Brown
Millie Bobby Brown's career as an actress flourished when she played the main character Eleven in the Netflix science fiction series Stranger Things. She was only 12 when the show started in 2016. The British actress received nominations for two Primetime Emmy Awards for this role. In 2018, Millie was featured on Time Magazine's list of the 100 Most Influential People.
Her professional achievements also include roles in Godzilla: King of the Monsters (2019) and Godzilla vs. Kong (2021). The young professional is also known for being the producer of Enola Holmes (2020) and its sequel Enola Holmes 2 (2022). Millie also became the youngest UNICEF Goodwill Ambassador in 2018. For the month of March, the Emmy nominee's Instagram account features a new partnership with Essentia Water. According to our estimates, it has produced earnings of £99,974.
Zoe Sugg
Zoe Sugg is a popular media personality who made her online debut on YouTube by creating various videos concerning beauty, fashion, and lifestyle. Her career quickly blossomed, and she now has a massive following on a variety of online platforms, Instagram included.
At the time of writing, Zoe Sugg's Instagram follower count exceeds 9m, and her main focus continues to be on lifestyle and fashion. Her sponsored posts for the month of March reflect this, as clothing, pastries, and a hot air styler are among the products advertised. According to our estimates, the four sponsored posts where these products were featured allowed the influencer to rake in over £59k last month.
Alexa Chung
Alexa Chung is one of the celebrities on this list to have made a name for themselves using a wide range of skill sets. From modelling and presenting for UK television to acting and creating her very own brand, Alexa Chung has proved to be a woman of many talents over the years. Her charm and fashion sense made her the It Girl of the 2010s, and she is still a prominent name in the UK fashion industry of today.
At the time of writing, Alexa Chung's Instagram account has about 6 million followers. She posts quite frequently, and her Instagram updates are often centred around the clothing and accessories she wears for various events. This, of course, makes her account perfect for fashion-focused brands. A sponsored post on her Instagram profile is believed to cost over £9.5k, making for a total of £38,113 in earnings for the month of March.
Тrent Аlexander Аrnold
The Brits are no strangers to the allure of sports, and football is, essentially, the UK's darling. Suffice it to say, being a professional football player comes with a lot of prestige if you are based in the UK, especially if you are as skilled as Trent Alexander-Arnold.
At 24, Trent Arnold has achieved a lot as Liverpool's right-back. The football sensation is considered to be one of the best right-back players globally, and he has won a plethora of trophies, earning the respect of many a Liverpool fan. This has translated into an impressive Instagram following of 9.2m.
Although around 20.44% of the accounts are estimated to be fake, Trent Arnold has one of the highest engagement rates of the celebrities listed here at just over 8.6%. Two of his posts for the month of March were sponsored, both showcasing sports-gear brands. The said posts are believed to have earned the football player £28,237.
Brooklyn Beckham
Brooklyn Beckham is the son of David and Victoria Beckham, and he has dabbled in modelling, photography, and professional cooking. Although none of the said endeavours have, thus far, become his long-term career, cooking is something the media personality is quite fond of. It is this passion for cooking that resulted in his lone sponsored post for the month of March. Our data suggests that Brooklyn Beckham earns just over £24,097 per sponsored post, and in this one, he made a delectable serving of Fettuccine Alfredo pasta and showcased a popular plant-based milk brand to his 15.1m followers.
Molly-Mae Hague
Molly-Mae Hague began her online career as a social media influencer and would later star in the fifth season of the show Love Island, which aired in 2019. Now, she is PrettyLittleThing's creative director and the CEO of Filter By Molly-Mae. Around 7.5m fans follow her on Instagram, and she boasts an impressive 15.67% engagement rate, as fans absolutely love her lifestyle-focused content. Sponsored posts made by Molly-Mae Hague are valued at £11,992 according to our estimates, and while this is certainly a fairly large sum of money, she takes the ninth place оn our ranking due to the fact that in March, only one of her posts was sponsored.
Michelle Keegan
Michelle Keegan was born in Stockport, Greater Manchester, England and her active professional career as an actress began in 2007. She rose to fame with the role of Tina McIntyre in the ITV soap opera Coronation Street, where she starred from 2007 to 2013. Michelle's filmography also includes roles in Ordinary Lies, Our Girl, and Tina and Bobby. The actress has amassed quite a lot of accolades from TVTimes Awards, TV Now Awards, TV Choice Awards, and the National Television Awards, among others. Her most recent role is in Fool Me Once, the Netflix adaptation of Harlan Coben's book.
Michelle appeared in one sponsored post on Instagram for March 2023 bringing her earnings to the amount of £10,338, according to our estimates. The actress took part in an ad for the online retailer Very.
Conclusion
Throughout the years, Instagram has proved to be quite the lucrative platform for celebrities from all corners of the world of fame, and it seems that last March was no exception. From perfumes to sports apparel, there has been no shortage of brands eager to pay a pretty penny for their product to be featured on the Instagram profiles of Britain's most famous.