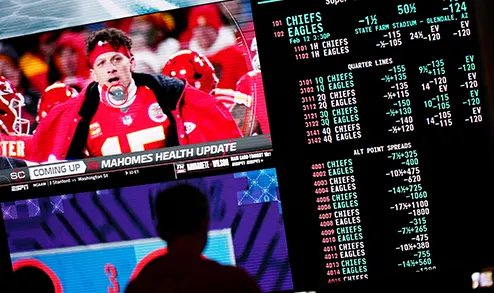 In a meeting that took place on Tuesday, members of the North Carolina Lottery Commission's sports betting committee approved 48 sports betting rules that, if passed, will result in pick 'em-style fantasy sports events not being included within the new legislation's definition of "fantasy sports."
Operators are not prohibited from offering daily fantasy sports games to North Carolina-based customers currently. However, the state does not explicitly regulate DFS events. Legislators aim to remedy this and introduce rules that will oversee operations surrounding DFS within North Carolina.
The New Legislation Excludes Prop-Style Bets From Fantasy Sports
Under the proposed regulations, contests "based on proposition wagering" that are similar to the prop bets placed on actual sports events do not fall under the definition of "fantasy sports." Such contests are considered problematic due to the fact that a given operator's clients pick over/under selections against the house, as opposed to other players. The rules also single out contests that are luck-based, i.e., where skill or knowledge does not pertain to the event. Games where the choices presented have the player decide if a team (or individual) will "surpass an identified statistical achievement" have also been stated to be an exception.
The new rules have not yet come into effect. Operators can provide feedback until November 1, and North Carolina regulators could introduce changes to the proposed legislation after they review any public comments they receive. Prior to the November deadline, a public hearing will take place on October 27 in Raleigh, North Carolina.
Should the new legislation pass as is, prop-style DFS selections could be considered sports betting. In this case, any company that currently offers these types of events to their clients would need to apply for a sports betting license in order to continue operating within the North Carolina state legally.
Regulators in Multiple US States Have Regulated Prop-Style Fantasy Sports Events
North Carolina is the latest state in the US that has chosen to target pick 'em-style fantasy sports events, as these types of contests have faced continuous legal pushback throughout the second half of 2023.
In September, multiple fantasy sports operators received cease and desist letters by Louis Trombetta, Executive Director of the Florida Gaming Control Commission. Companies like Underdog and PrizePicks were demanded to stop providing their Florida-based users with opportunities to partake in fantasy sports betting.
October, in particular, was a rough month for companies that offer prop-style DFS games, as it was in early October that New York banned any and all DFS events that bear a resemblance to proposition bets. This legislation was met with criticism from both operators and customers following its proposal, but the complaints were not successful in changing New York legislators' stance on the matter. The same month also saw the prohibition of pick 'em fantasy sports events in Michigan after the state's regulators proposed such a ban this summer.