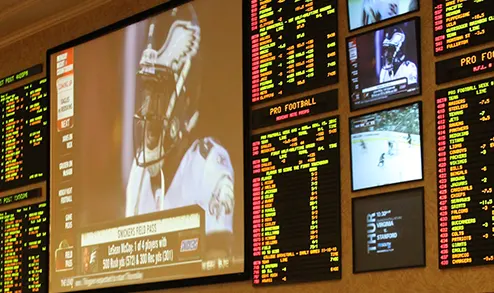 North Carolina moves one step closer to legal sports betting as the House of Representatives okayed House Bill 347 (HB 347) which seeks to allow wagering on professional, amateur, and collegiate sports events via smartphones and other electronic devices. The topic of introducing legal sports betting has been hotly debated by lawmakers in the state for over two years. A similar bill (SB 38) failed to gain legislative approval in 2022 by a ludicrously narrow margin of one vote against. Now it appears lawmakers in the Tar Heel State have started to warm up to the idea of legal sports wagering.
As BonusInsider previously reported, the House Commerce Committee approved HB 347 last Tuesday with a 17-10 vote. HB 347, whose chief sponsor is Rep. Jason Saine (R-Lincoln), went through four committee stops before it ended up at the House of Representatives where it was eventually approved on second reading with a 66-45 majority vote after almost two hours of discussion. The third and final reading is scheduled for today and will ultimately decide whether the bill progresses to the Senate.
HB 347 underwent minor changes as the potential launch date of legal online sports betting was moved from January 1 to January 8 next year. Wagering on greyhound and horse races was also removed from the bill, which now contains provisions for the additional funding of ten University of North Carolina schools that do not participate in the NCAA Division I Football Bowl Subdivision (FBS).
During the two-hour discussions, the House legislature weighed up the social, economic, and moral implications of bringing legal sports betting to North Carolina. The bill's chief sponsor Rep. Saine said that regulating the market is the smart and moral thing to do since it would provide problem gamblers with more adequate assistance and resources. Legal sports betting would also give a much-needed revenue boost to the state, he insisted. Saine is confident that this young market could bring anywhere between $60 and $80 million in state revenue, although some of his fellow Representatives questioned his assessment.
Few House Representatives Oppose Sports Betting Legalization
Rep. Pricey Harrison (D-Guilford) pointed out that other states with legal sports wagering have not been coming close to their original revenue estimates and warned that the same thing could happen in North Carolina. Rep. Abe Jones (D-Wake) also opposed the move, stressing that sports betting could potentially lead to commercial casinos spreading throughout the state like wildfire. For clarification, North Carolina is presently home to three tribal casinos only, located in Cherokee, Murphy, and Kings Mountain. Commercial gaming is prohibited in the state for the time being.
HB 347 also ran into opposition on behalf of Rep. John Autry (D-Mecklenburg), who argued that the sports wagering industry preys on minors who will also suffer the negative effects of excessive advertising. Gambling adverts could groom underage North Carolinians to become gamblers, Rep. Autry warned.
Should the bill prevail in the Senate, it will pave the way for the launch of 10 to 12 regulated mobile sportsbooks in the Tar Heel State. Licensed operators will be taxed at a rate o 14% of their adjusted gross betting revenue. An amendment proposing to increase the tax rate to 51% was defeated during the discussions. Licensees will also have the option to deduct free bets and bonuses from their taxable income without any restrictions throughout their first year of operation, i.e. 2024. However, these tax deduction rates will drop significantly in 2026 and will be altogether abandoned at the beginning of 2027.
If approved by the Senate, HB 347 would mandate the North Carolina Lottery Commission with the oversight and licensing of authorized sports betting operators. Each license will cost $1 million and will have a validity of five years. Only North Carolinians aged 21 or older will be allowed to legally participate in sports wagering.