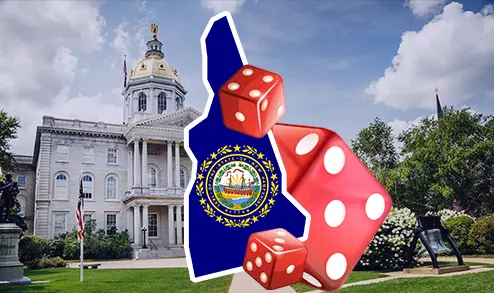 Online casino legislation seeking to legalize table games in New Hampshire passed the Senate on March 30 and is now being considered by the House. During an hour-long hearing, the legislators discussed how the bill would legalize online table games and fund higher education.
The lottery would be tasked with granting licenses to potential operators, who must go through a bidding process before they receive permission to operate in the state. The legal age to gamble in New Hampshire would be 18 years old.
Online Table Games May Soon Be Legalized in New Hampshire
The New Hampshire House held a hearing on Tuesday for Senate Bill 104, which would legalize online table games if approved. Experts see this as an important step forward for the state because it would provide New Hampshire residents with more entertainment options and raise funds for higher education. The bill, however, will not legalize slot machines.
Operators interested in entering the market must go through a bidding process. The ones that offer the highest tax rate would receive a license. A state legislative analysis projected that three to five operators will obtain licenses, and the bidding tax rate will be around 35%. The New Hampshire Lottery Commission estimated that online casino games could generate $25 million in the first three years of operations, which would go to scholarship funds.
Under the provisions of the bill, no cap will apply to wagers placed on online games. But according to state law, charitable gambling facilities must comply with a maximum bet limit of $10. However, there are some bills in the legislature seeking to increase this ceiling.
Arguments For and Against Gambling Expansion in New Hampshire
Currently, casinos are obliged to donate 35% of their profits to charities. According to recent information, casinos generated approximately $20 million for nonprofit organizations in the last fiscal year. During the hearing held on Tuesday in the New Hampshire House Ways and Means Committee, benefactors explained that online casinos would affect their revenues and the amount they earmark to such organizations.
Head of Meals on Wheels of Hillsborough County, Jon Eriquezzo, used an interesting metaphor to describe the situation. He said that if you squeeze a balloon on one side, it will get smaller on the other.
Supporters of the bill argued that online casinos would not change people's habits who are used to visiting gambling facilities but attract new players. Sen. Timothy Lang, the main sponsor of the bill, told legislators that many New Hampshire residents gamble online even though online gambling is prohibited in the state. He added that legalizing online gambling will ensure better consumer protection and boost the state's workforce.