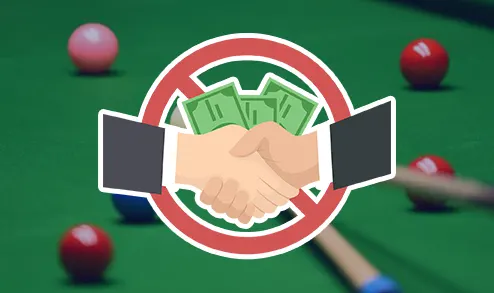 This Monday, the hearing into an alleged match-fixing scandal, which includes ten Chinese snooker players who are currently suspended, started. The hearing is expected to take up to two weeks, and after that, findings will be made public. Based on the findings revealed during the hearing process, the World Professional Billiards and Snooker Association will decide how to punish the ten players.
Results from the Hearing Not Expected to Be Published Before June
Yesterday, the hearing into snooker's match-fixing scandal involving ten of the best Chinese snooker players began. They have been charged with match-fixing offenses and immediately suspended from the World Snooker Tour. The hearing is expected to take no more than two weeks, and the results will be published at a later date, probably somewhere around June.
Those found guilty will face lengthy bans of up to 10 years and even more. However, none of the ten players will receive a life-long ban as these are usually associated with legal issues. This is some relief as players could get their careers back on track.
The hearing will be conducted virtually and chaired by Ian Mill KC, who is specialized in resolving sports disputes. A curious fact is that he made the ruling concerning John Higgins' match-fixing case in 2010.
Who are the Players Involved in the Match-Fixing Scandal?
Last October, Liang Wenbo became the first player to be suspended. In December, Yan Bingtao, Lu Ning, Li Hang, Zhao Jianbo, Bai Langning, Chang Bingyu, and Chen Zifan were also suspended. The announcement for the suspension of Zhao Xintong and Zhang Jiankang came this January.
The players have been suspended for months, and any ban resulting from the investigation will be backdated to when it was issued. This means that the players who receive a year-long suspension could return to play next season.
All players, except Zhao Xintong, who is still in England, have returned to China. Former UK champion Zhao is expected to get away with the least serious punishment. He has been charged with being concerned with fixing matches on the World Snooker Tour and betting on snooker. The term "concerned in fixing matches" is a broad charge used to describe any involvement in match-fixing.
Speaking to the BBC podcast Snookered, Matchroom president Eddie Hearn said that both sides will have the opportunity to present their arguments during the hearing, and the case will be decided by an independent arbitrator. He added that everyone who deserves suspension will be handed one. He mentioned that Higgins was fined and suspended just for failing to report a corrupt approach back in the day.