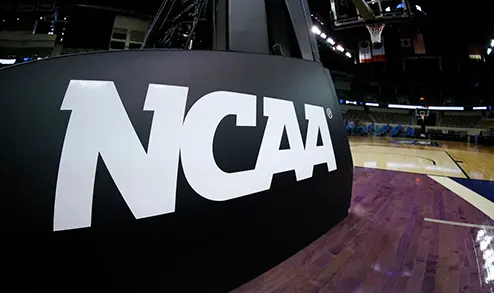 The National Collegiate Athletic Association's Division I Council Coordination Committee announced amendments to the rules that oversee sports betting penalties imposed on student-athletes. The update concerns individuals who have placed bets on teams that belong to their school, with the exception of wagers concerning student-athletes' own teams.
As per the new rules, a sports player who has wagered on teams associated with their school will be suspended for one season and lose eligibility for one year. Additional consequences will involve the given student-athlete taking part in mandatory education programs surrounding sports betting rules and prevention. This will serve as one of the requirements students will need to meet in order to be reinstated.
The new guidelines are retroactive and will affect student-athletes whose wrongdoings were reported on May 2, 2023, or at a later date. The modifications will not, however, concern those whose bets involved the team they themselves played for. Moreover, student-athletes, coaches, and individuals involved with NCAA sports administration will still be prohibited from partaking in betting that has to do with sports sponsored by the association.
Council Coordination Committee Chair Jon Steinbrecher clarified that these changes should not be taken to mean that the committee encourages student-athletes to partake in gambling, nor does it entail that division members condone sports betting. Instead, the new rules were introduced with the aim of underscoring the importance of the "integrity of competition," along with facilitating better education concerning the prevention of problem gambling and sports betting among student-athletes.
The NCAA's Ultimate Goal is to Protect Student-Athletes
Previously, student-athletes who were caught wagering under the same circumstances faced permanent suspension. However, a month prior to the November announcement, the Collegiate Commissioners Association had asked the Division I Committee tasked with overseeing such matters to review the reinstatement rules. The reasons cited included the necessity of prioritizing the well-being of student-athletes and assisting them in recovering from problem gambling.
Efforts into safeguarding student-athletes were also made in relation to potential harassment they could face from gamblers. In light of the increasing legalization of sports betting across the USA, the NCAA disclosed its intention to negotiate with law markers and advocate for the introduction of measures that will concern betting-related harassment aimed at student-athletes and other individuals associated with NCAA college sports. According to the NCAA, the issue can be mitigated via the adoption of hotlines centered on the reporting of harassment and threats.
Other proposals had to do with the legal age for betting being set at 21. In addition, the association also advocated for the implementation of betting ad requirements, namely how such advertisements should include the aforementioned harassment hotline and details regarding problem gambling and the penalties surrounding sports betting-related harassment. The NCAA's final proposal concerned sports betting revenue. According to the association, proceeds should go toward the funding of problem gambling education for student-athletes and other college students.