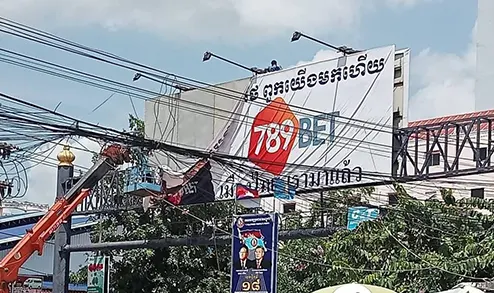 Banteay Meanchey province's Governor Oum Reatrey ordered local authorities to remove billboards advertising online gambling in front of the Poipet Customs and Excise Office. The move came soon after residents expressed their concerns regarding the billboards, encouraging locals to engage in online gambling, which is illegal for Cambodian residents. Although the governor and town administration acted promptly to the public outcry, people wonder who allowed these online gambling billboards to be installed at all.
On August 13, Banteay Meanchey province's administration removed controversial billboards promoting online gambling. The online gambling billboards unleashed a storm of criticism as they used inappropriate images and text, advertising activities that are illegal for Cambodians. The province's administration issued a statement, acknowledging the public's reaction and explaining that the billboards were illegally installed.
On its official Facebook page, the city administration stated that the governor already ordered the billboards to be removed. Deputy Governor of Banteay Meanchey Ly Sovannarith confirmed that the online gambling billboards displayed inappropriate images and text. In a radio interview, Mr. Hul said that those who installed the billboards were not outsiders and that proper legal actions must be taken against the offenders. He also noted that the provincial authorities are responsible for approving and supervising the advertising sector.
Cambodia Struggles to Clean Up Its Image, Fighting against Human Trafficking and Illegal Gambling
The billboards promoted the services of two sports betting companies and featured a man holding a ball. The advertisement had a text in Khmer, inviting Thai people to gamble. Mr. Hul said that after seeing the billboard, he informed the provincial government, who contacted the relevant ministries.
Heng Kimhong, Head of research and advocacy at the Cambodia Youth Network, explained that commercials advertising online gambling are illegal in Cambodia. Mr. Kimhong also asked authorities to carefully check whether or not an advertisement is appropriate before approving it. He noted that commercials that damage national honor must not be displayed because the nation's dignity is worth more than any monetary gain. Kimhong also noted that such incidents could damage the country's reputation and reveal its weaknesses.
However, Poipet is a boomtown on the Cambodian-Thai border. And since gambling is illegal in Thailand, Poipet attracts a lot of Thai gamblers who are allowed to indulge in their favorite gambling activities there because gambling in Cambodia is illegal only for Cambodian residents and not for foreigners. However, the country has been trying to clean up its image for quite some time. For that purpose, it launched a massive crackdown on human trafficking and illegal gambling. Media agency Khmer Times reported that the number of human trafficking cases significantly declined, which is not surprising considering the reduction in illegal gambling in the country.