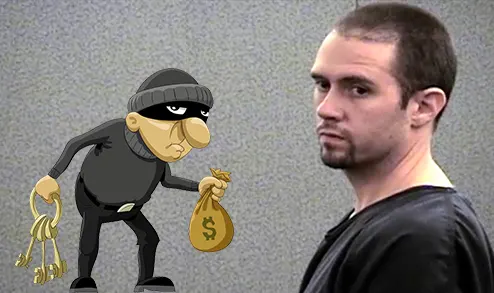 Erik Gutierrez, a 23-year-old man, pretended to be a Las Vegas hotel owner to convince a casino worker to give him over $1 million for fire safety. According to documents obtained by media agency 8 News Now, Gutierrez is charged with stealing over $100k. Court documents reveal that an unknown man went to the casino cage and said he was the hotel's owner. He asked the cashier to give him $320k to cover an emergency payment to the fire department.
On June 17, Las Vegas Metro police answered the report of a possible fraud filed by the Circa Hotel and Casino in downtown Las Vegas. In front of police officers, the cage supervisor said someone called her and introduced himself as the hotel's owner. He told the cashier that the fire department had to ensure the fire extinguishers were working properly and that they needed to purchase more safety devices.
The cage supervisor thought she spoke to the hotel owner on the phone. According to documents, she believed she was meeting with the hotel owner's attorney and brought the money to several different off-site locations. The total amount the cage supervisor gave to the unknown man was $1,170,000. The payments were made in four installments of $314k, $350k, and $500k, and three smaller deposits.
Authorities Arrest Gutierrez and Recover $850k, But $314k is Still Missing
Detectives found that the vehicle, which was involved in the fraudulent scheme, was owned by Gutierrez's aunt. Police officers also surveilled Gutierrez's home and reported that they saw a different car with another man in it arrive and then leave with the culprit. The police searched the vehicle but did not find money or other suspicious items.
Police obtained a search warrant for the home where Gutierrez lived with his aunt and found identification documents belonging to the man, a bag of money bundled together, carrying the name "Circa". Next to the bag of money, police officers found other suspicious items.
Authorities said that Gutierrez was arrested at a gym on June 18 and recovered almost $850k. However, nobody knew where is the other $314k at the time of writing Gutierrez's arrest report. The person, who was in the car with Gutierrez before his arrest, was not taken into custody.
Judge Amy Ferreira took the decision to grant Gutierrez a bail of $25k and ordered him to avoid approaching Circa and the Fremont Street Experience. The 23-year-old man is facing a similar charge in Mesquite Justice Court, and his bail is $20,000.
In a statement, Derek Stevens, Circa's chief executive officer, said that Circa Resort and Casino works closely with the Las Vegas Metropolitan Police Department on the case. Although he could not provide further details about the ongoing investigation, he expressed his gratitude to the police officers who have been working tirelessly to catch the culprit.