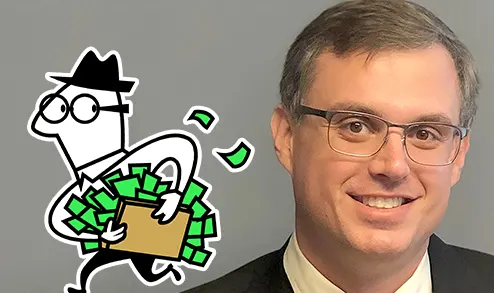 Kyle Fisher, a 42-year-old man, is facing charges after embezzling $230k from a charitable organization called Listen Community Services based in Lebanon, New Hampshire. Fisher took advantage of his position as an executive director of the charity and redirected the funds from the organization to his own bank account. Fisher used the money to wager on sports and play casino games at a casino in Massachusetts.
US Attorney Jane Young stated that the man has been charged with four counts of wire fraud, and a federal court hearing is scheduled to take place at a later date. The revelations shocked the organization members, who could not believe that a high-ranking trustee could steal the funds. The organization was informed about the fraud shortly before the case was made public. In a statement, the organization expressed its disappointment with Fisher's actions.
Authorities believe Fisher started embezzling money from Listen Community Services in 2021 when he was still working for the charitable organization. The man reportedly transferred money from the organization's PayPal account to his bank account. He forged receipts and invoices to cover his tracks. Until September 2021, Fisher stole $230k, which he purportedly lost on gambling at the MGM Casino in Springfield. After months of investigation, the police exposed Fisher's scheme.
Who Ecaxtly is Kyle Fisher and What Possible Sentence He Could Receive?
The charitable organization stated that the loss did not affect its financial health or the social services it provides. However, Listen Community Services explained that a bigger theft would severely affect the organization and those who benefit from its aid. Fisher started working for the organization as an unpaid volunteer in 2013. But this February, he was forced to resign due to the ongoing investigation.
Further investigation into Fisher revealed that this was not the first time the man had been accused of misappropriating funds. In 2012, a lawsuit was filed against Fisher, claiming that he stole a small amount ranging from $200 to $1k. Fisher pleaded guilty to stealing less than $200. The Michigan State court, however, found the man guilty of stealing a larger amount. In 2014, Fisher declared bankruptcy after moving from Michigan to Cornish.
Listen's board chairman Jay Benson said that the official investigation following several interim investigations. Upon revealing that Fisher stole money from the charitable organization, the organization escalated the case to the competent governmental authorities.
Court recordings suggest that no phone number was attached to Fisher's case. Although an attorney is yet to be assigned to the case, it seems that all the evidence is against the defendant. If found guilty, Fisher could receive a hefty fine of up to $250k and a sentence of up to 20 years in jail. The charitable organization hopes that justice will prevail and it will get back the stolen money.