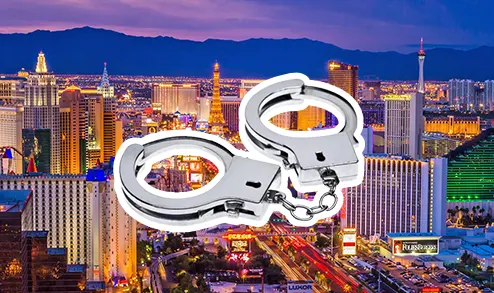 On Thursday, Las Vegas Metropolitan Police detained a 33-year-old man accused of six counts of robbery with a deadly weapon, two counts of attempted robbery with a deadly weapon, 11 counts of burglary with a deadly weapon, and five counts of grand larceny of a vehicle. According to the police, the man has a lengthy criminal record in Las Vegas.
Las Vegas Police Finally Apprehend a Wanted Felon For String of Casino Robberies
The suspect, identified as Dshante Styles, was arrested yesterday by Las Vegas Metropolitan Police. The 33-year-old felon will face charges of six casino robberies and two armed carjackings. The string of robberies occurred on November 16 in Henderson and Las Vegas.
On April 18, police explained that they found a stolen vehicle parked in front of the 2300 block of Silverado Ranch Boulevard. Police suspect that the man used that vehicle during one of the casino robberies. Officers said that when they approached Styles, he ran away, but later the suspect was spotted and identified. Upon arresting Styles, the officers found he owns a gun.
Styles was jailed at the Clark County Detention Center and brought to trial later on Thursday. On Friday, the man is expected to appear in court again on a charge of domestic abuse. Officers said that Styles has a lengthy criminal record and even served a prison sentence for robbery. Police refused to provide information about the casinos that the man robbed.
The Man is Responsible for a Series of Casino Robberies
On January 18 this year, Las Vegas police asked the public for assistance in finding a man suspected of several casino robberies. Since November 2022, the cashiers of several off-Strip Las Vegas casinos have been robbed without anyone being arrested. The police provided a detailed description of the man and explained that he had been observed wearing a black mask, a hooded sweatshirt, and black gloves.
The man allegedly robbed the Gold Coast Casino on November 16, the Green Valley Ranch on December 12, the Silverton on December 20, and the Rampart on December 24. In a press conference on Thursday, Nick Farese, the deputy chief of the Las Vegas Metropolitan Police Department, said that the members of his department were working day and night to arrest Styles for the casino robberies. Farese pointed out that the officers quickly realized that the 33-year-old man is dangerous.
Two other robbers, including Zubaid Al Jarmi and James Booth, were recently detained for stealing money from the cages of Resorts World Casino and Caesars Palace. Cases against the two felons are currently pending in court.