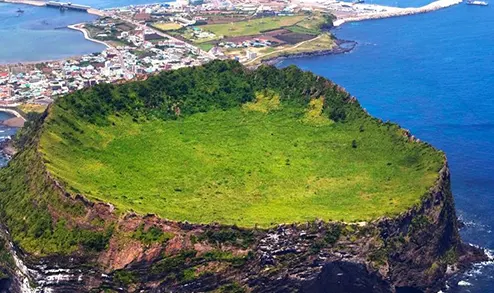 Jeju Island, a well-known South Korean gaming hub, has abandoned its plans to introduce "proxy betting" within its foreigner-only casinos due to a lack of interest on behalf of the industry. The island's government stated that the idea failed to garner interest from the local casino operators and could potentially lead to diplomatic and technical complications.
After the appointment of a new governor, Oh Young-hun, on July 1, the idea of potentially issuing more land-based licenses on Jeju Island has re-emerged as a matter of public discussion. While the previous governor opposed issuing new licenses, Governor Oh has not disclosed his stance on the matter yet.
Why the Jeju Government Scraps Plans to Adopt Proxy Betting?
Last July, Son Minho, assistant director of the Jeju government's Tourism Industry Division, informed media agency GGRAsia that the local government was still examining the idea of introducing remote betting. But according to more recent information provided by the Jeju official, the country's island is unlikely to introduce proxy betting because Jeju's casinos showed no interest in the proposal anymore. He also noted that if adopted, proxy betting could cause "diplomatic and technical troubles".
Jeju Island has held certain regulatory powers over its casinos since 2009 and currently hosts eight licensed land-based casinos. Son Miho's concerns arise from the fact that the various overseas governments have differing perspectives on online gambling, which could lead to diplomatic issues. Many foreign governments do not allow their citizens to engage in online gambling activities. Of all 17 land-based casinos in South Korea, only Kangwon Land can cater to South Korean gamblers.
In a bid to help the industry recover from the losses caused by the Covid-19 pandemic, a South Korean lawmaker suggested introducing proxy betting for foreign customers in the autumn of 2021. Proxy betting is a specific form of gambling, allowing a person physically present in a land-based casino to make bets on behalf of customers who are not on-site.
Osaka's Integrated Resort Unlikely to Hurt Jeju's Gambling Industry, According to a Government Official
Mr. Son said that the Tourism Industry Division, responsible for overseeing gambling activities, has conducted over 1,100 inspections of casino video games and slots since 2021 to ensure compliance with local regulations. The official explained that the scrutiny had saved the island KRW56 million from hiring external consultants, and raised KRW133 million. The division has also carried out anti-money laundering checks and monitored the introduction of new table games to the local market, including the niu niu card game, which is already available at the casino of the Jeju Shinhwa World resort.
Mr. Son told GGRAsia that the former Yalanwan Casino, which has relocated from the Jeju Shilla Hotel to Lotte Hotel Jaju, has changed its name to "Seven Star Casino". He added that this month, division officials and local tourism firms were scheduled to visit Osaka, Japan, to promote the Jeju casino market.
Osaka is to host a US$100-billion integrated resort (IR) with a casino, but the property is unlikely to open until 2030 at the earliest. Despite the widespread notion that the IR in Osaka could negatively impact South Korea's casino industry, Mr. Son expressed optimism that the resort could instead expand the East Asian casino market. He revealed that Jeju's Tourism Industry Division intends to conduct promotional tours to Singapore, Malaysia, and Thailand to boost tourism.