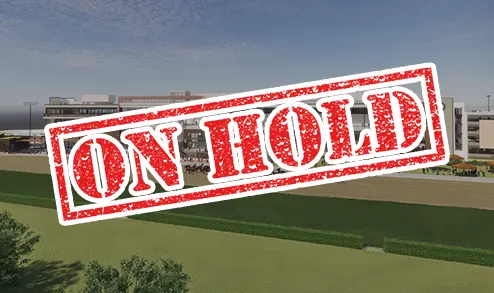 This Thursday, city officials announced that they were forced to postpone plans for a casino at Hawthorne Race Course until they get financing to continue working on the project. At the same time, FanDuel Sportsbook and Horse Racing, formerly known as Fairmount Park Racetrack, announced that the construction of its casino will commence this summer and is scheduled to open by the end of 2024.
CEO of Gaming at Hawthorne, Kevin Kline, said that inflation, high interest rates, supply disruptions, the war in Ukraine, market volatility, and the Covid-19 pandemic are the main reasons for the delay of the casino project at Hawthorne Race Course. Gaming board members refrained from commenting on the project.
Hawthorne Race Course Casino Plan Needs Financing to Proceed
The top construction manager of gaming facilities and casinos, Pepper Construction, has already knocked down much of Hawthorne's inside part and grandstand. Now, the planned construction can commence and renovation is expected to take 14 months, but the project still needs financing.
On March 16th, track President Tim Carey confirmed that city officials will do their best to support the development of the gambling and racing industry in Stickney. Last year, Mr. Carey announced that the construction of the gambling venue would start before the beginning of 2023.
Meanwhile, FanDuel Sportsbook and Horse Racing stated that its casino is to open by the end of 2024 and construction work will begin this summer. The casino will initially host 600 slot machines and table games, but a planned second phase would expand the gaming floor and increase the number of slots and table games to 900. Besides, Chicago, Waukegan, East Hazel Crest, and Danville will welcome new gambling establishments.
What Exactly Happened to the Hawthorne Race Course Casino Project?
In 2019, Hawthorne revealed plans to establish a racetrack and casino (racino) in partnership with video gaming operator Rick Heidner. A year later, gaming board members approved the project. But Gov. J. B. Pritzker scrapped those plans after the media agency Chicago Tribune revealed that Mr. Heidner works with a bookmaker and a banker with alleged ties to the mafia.
The Chicago Tribune reported that Heidner has partnered with Rocco Suspenzi, chairman of the board at Parkway Bank and Trust in many real estate deals. The pair borrowed millions to fund the establishment of convenience stores and gas stations in different states. The Chicago Tribune also revealed that Heidner had business connections with Dominic Buttitta, who was convicted of running illegal sports betting operations.
Heidner's alleged mob ties significantly jeopardized the future of the Hawthorne Race Course casino project as the Gaming Board could stall the project for an unlimited period. That is what happened to Rosemont Casino in 2001 when the Illinois Gaming Board refused to allow the establishment of the gambling facility after learning that some investors, including Rick Heidner, had ties to members of organized crime. That was a significant blow to the reputation of Emeral Casino Inc.