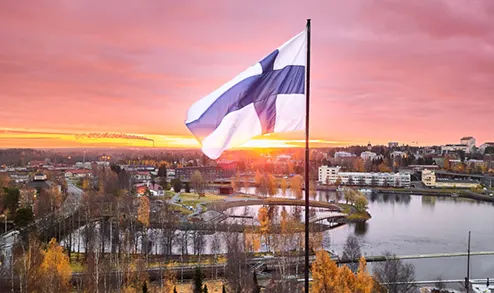 The European Gaming and Betting Association (EGBA) has met with enthusiasm Finland's intentions to abandon the state-run gambling monopoly model and launch a multi-licensing system. The shift towards multi-licensing gambling models across EU states is generally seen as a positive trend, as it is a fundamental element of any properly functioning and competitive market.
Finland's Ministry of the Interior has officially communicated that it is dedicated to renouncing the current government-controlled monopoly system, with plans to replace it with a license model. EGBA's officials identified this move as a fundamental step of the sole EU country where the monopolistic regime is still in force.
The legislative project on the reform of Finland's gambling system will cover online gambling including games of chance and betting, which, at present, are provided exclusively by the state-owned company Veikkaus. Among other important considerations, EGBA expressed its unanimous support for the government's intentions regarding player protection and safer gambling practices.
Officials from the trade association further voiced their conviction that the multi-licensing gambling model would strengthen the effective monitoring of the industry, amplify the tax revenues, and create equal opportunities for all participants in the industry.
The governmental project, which aims to come up with a legislative proposal by the spring of 2025, encompasses multiple aspects of gambling. It will provide a clear framework for license fees, gambling taxes, responsible gambling practices, prevention of compulsive gambling, as well as advertising and marketing regulations.
Officials from EGBA and Veikkaus Share Their Views on the Forthcoming Reform
Officials from both EGBA and Veikkaus shared their views on the forthcoming gambling reform in Finland. EGBA's Secretary General, Maarten Haijer, said that although the gambling reform in the Scandinavian country was delayed, it would nevertheless furnish the Finnish players with greater choice and stronger protection mechanisms. As for gambling operators, they would benefit from fair conditions. He added that as soon as the regulatory changes enter into force, all EU countries would feature some sort of licensing model for remote gambling.
Earlier this year, a report commissioned by the Interior Ministry of Finland indicated that gambling outside the monopoly system deprived the government of tax revenue totaling approximately €500 million annually. Furthermore, the report suggested that countries that have adopted a licensing system were successful in improving the channeling rate for online gambling, i.e. the percentage of gambling that occurs within the environment of licensed gambling operators.
While Veikkaus is preparing to compete with new license holders in the local market, it is believed it will retain its monopoly over lottery and retail slot machines. Velipekka Nummikoski, Vice President at Veikkaus, also commented on the gambling reform that is about to reshape Finland's gambling landscape. He said that Veikkaus completely backed the project, highlighting its magnitude. Nummikoski further expressed his hopes that the new licensing model would bring about an increase in the channeling rate in favor of licensed gambling operators.