Finding a proper online casino is a difficult task these days. With so many to choose from, one can hardly distinguish the good from the bad and the terrible. Not only that but few websites give you real insight into what they actually offer. This makes the process of choosing an online casino a drag when it should be fun and exciting.
888casino does things differently, however. You can claim a no deposit bonus as soon as you become a member, which gives you the chance to thoroughly explore the casino and even place a few bets. All without any commitment on your part. Below, we will go into detail about the no deposit bonus at 888casino and what it has in store for you.
Full Bonus Terms and Conditions
The 888casino No Deposit Bonus will become available to you as soon as you open an account with the casino. You will receive an email from 888casino within 72 hours of becoming a member. The email will contain a link to the bonus, which you must click if you wish to acquire it. The link is valid for 48 hours from the time it is sent out and you have to click it within that time frame.
Once you use the link in the email, 888casino will add €20 to your balance which you can then use to place bets on various casino games. From this point on, you can play with the funds as you wish and explore everything that 888casino has to offer.
It should be pointed out that this no deposit bonus is only available to customers who have not previously held an account with 888 in any capacity. This also includes the poker and sportsbook sections of the platform.
Wagering Requirements
Casino promotions are never straightforward and you will have to fulfil certain conditions before the no deposit bonus is available to withdraw. The primary rule is the wagering requirement, which states that you have to place a certain amount of bets to unlock the bonus. In the case of the no deposit bonus, the wagering requirement is 30 times.
In order to complete the wagering requirement, you need to wager 30 times the original bonus amount. Since the bonus is €20, you will need to stake €20 x 30 = €600 on various casino games. You will have 90 days to fulfil this, which is more than enough time even for the most casual of players. Moreover, 888casino does not state a maximum bet limit for this bonus, which means that you can bet as much as you want.
Restricted Games
Before you start wagering the bonus, you should know that not all games are treated the same when it comes to the wagering requirement. Specifically, certain game types are better suited for the purposes of the wagering process than others.
By this, we mean that slots and arcade games have a full 100% contribution of bets. If you wager €5.00 on a slot game, you can expect that all €5.00 of that will be counted towards the requirement.
However, certain game types have a reduced contribution. For instance, all table games, video poker and live dealer titles have a contribution of 10%. Therefore, the €5.00 that you wagered on slots will only be worth €0.50 towards the requirement if wagered on any of these game types. Following the same logic, dice games only contribute 5% of the bet amount.
Other Bonus Rules
While most of the bonus rules have to do with the wagering requirement, there are those that relate to your overall betting activities. Specifically, 888casino does not allow players to use betting systems or place low-risk bets. This goes against the spirit of the promotions, according to 888casino, and is considered bonus abuse. If you are dubbed as a bonus abuser, you will have the bonus stripped from you, along with any winnings you acquired from it. Not only that, but your chances of claiming bonuses in the future are also significantly reduced.
If you are happy with things so far, you should definitely check out the 888casino Welcome Bonus and the daily promotions. You can get plenty of value for your money at 888casino, you need only look.
Related Bonuses
SNAI Casino €15 No Deposit Bonus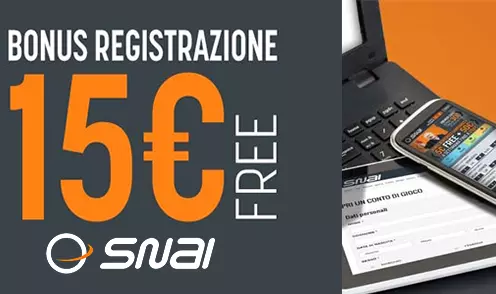 SNAI Casino is a virtual casino that is easy to remember, thanks to the top-shelf experience it delivers. It is an Itali...
Read more