SNAI Casino is an Italian-oriented gaming platform that can be equally appealing for sports bettors and lovers of casino entertainment. When the casino platform is concerned, players have almost nothing to complain about since it houses table games, slots, jackpot games, and live games that are brought to players by industry leaders such as Playtech, NetEnt, IGT, NYX Gaming, and more.
There is no denying that promotional deals are one of the departments the casino operator goes one better than many of its counterparts, and the Daily Spin comes to provide evidence for that.
Full Bonus Terms and Conditions
The gaming operator has prepared several special deals to ensure that playing the blue slots will be both enticing and lucrative. Participating in the promotion is made exceptionally simple as virtual players will only be required to get logged into their gaming account and to select the Daily Spin. That way, you will receive bonus spins that can help you get whopping prizes.
Keep on returning every day, and you will get an even more enjoyable gambling experience.
Other Bonus Rules
First off, in order to take advantage of the Daily Spin, virtual players should be existing customers of the online casino. If you meet this requirement, you should bear in mind that a single attempt per day is given to make use of the Daily Spin.
This promotional deal has five levels that bring different prizes. Please remember that the number of tokens players will get will be determined by the number of consecutive days they have not missed to log into their gaming account and make use of the offer. The iron token is given on the first day, while Bronze is awarded if you visit the casino for two consecutive days. The silver token is granted when visiting the casino for three days, without interruption, while the gold token is given for four consecutive days. The platinum token is the last one, and it is granted you have frequented the casino for five days.
Remember that if you are persistent, and you keep on visiting the casino for more than five days, your token will continue to be platinum. Make sure that you will not interrupt your visits at the online casino due to the fact that if you forget to log into your account even once, you will be returned to the iron token.
Something vital we should note is that while using the bonus spins, players will receive a prize that comes in the form of bonus money. The least amount they can get is €0,50, while the ceiling on the prizes is €500. In order to enhance your chances to get better prizes, you should consider playing with chips with a higher value.
Thus, depending on the combination that will land across the reels and players' token, they can benefit from the following prizes:
Combination
Token
#
Iron
Bronze
Silver
Gold
Platinum
3 Diamonds
€100
€200
€300
€400
€500
3 Sevens
€10
€20
€30
€40
€50
3 Bars
€5
€10
€15
€20
€25
3 Bells
€2
€4
€6
€8
€10
3 Lemons
€1
€2
€3
€4
€5
3 Cherries
€0.50
€1
€1.50
€2
2.50
If you manage to form any of these winning combinations, your bonus money will be added to your account right away.
Wagering Requirement
Since the bulk of the casino bonuses go tied with rollover requirements, it is not surprising that the Daily Spin is not an exception too It is associated with 20-time turnover requirements, the completion of which should be done before a ten-day period has elapsed.
The games with the biggest contribution are slots and arcade games as the value of the wagers made on them is not reduced. That being said, jackpot games are not appropriate while you attempt to complete the rollover requirements. Casino Hold'em has a contribution of 75%, while wagers made on roulette are counted for 25% of their value. Video poker games are at the bottom of the chart as they contribute with 5% towards the turnover requirements.
Related Bonuses
Exclusive Casino Loyalty Program Bonus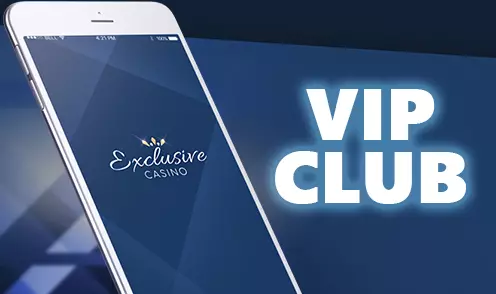 It feels good when you are appreciated, doesn't it? Exclusive Casino aims to treat every customer with the respect and...
Read more