Owned and operated by BGO Entertainment Limited, BGO Casino went online in 2012. It ranks among the interactive casinos that are celebrated for their gaming collections as the portfolio of the casino features some of the top-rated games available out there. What is more, at BGO Casino, you are enabled to give some of the most captivating bingo games a try as the operator boasts an impressive bingo platform as well.
The list of the promotions the operator runs is not less impressive as patrons of the gaming website can avail themselves of numerous enticing offers. One of the options you may wish to go for is The Vault Reward System due to the fact that each time you wager at BGO Casino, you will be rewarded the so-called Boosts that can bring you numerous rewards such as free spins and free play.
Full Bonus Terms and Conditions
Once you have become a member of BGO Casino, you will be enrolled in the Vault Reward System right away. Patrons of the gaming website who have been entered into the reward scheme will have the chance to earn Boosts each time they place a real-money bet. In essence, the Boosts are rewards that can bring customers of the casino various prizes that include free play or free spins.
But what is even better about the Vault Reward Scheme is that the winnings you can accrue using your free spins are not capped. In other words, all winnings you have managed to accumulate using the free spins will be all yours.
If you wish to take part in the reward scheme, you need to know that each time you wager using your real-money funds, your "Boost Bar" will increase. Once you have filled your "Boost Bar", this will mean that you have made your way to a new level in the Vault and that you will be granted a Boost. BGO's patrons who have made use of the promotional offer should be informed that there is a total of 150 levels in the Vault Reward Scheme.
Interactive players should also take into account the fact that the various casino offerings will have a different weighting towards the filling up of the "Boost Bar". Thus, if you relish playing table games such as roulette, Casino Hold'em, or blackjack, you need to know that the contribution of these games will be only 10%. Still, if you get a real kick out of playing any of the other casino games, you should be informed that they will have a 100% contribution towards completing the "Boost Bar".
As it was previously stated, for each of the Boosts you have managed to earn, you will be granted specific rewards. Still, gambling aficionados should keep in mind that they are enabled to accept or to decline the reward they are offered.
But what makes the promotion even more tempting is that there is not a ceiling on the number of the Boosts you can earn per day.
Gambling aficionados who have been enrolled in the Vault Reward Scheme should know that once they have started placing real-money bets, they will have the chance to unlock four different types of Boosts. The first type is the Classic one and you will unlock it each time you move up to a new level. Mega Boosts is the second type of Boosts you can receive and it gives more valuable rewards. Still, Mega Boosts are unlocked when you make your way to each 5th level.
The next type of Boosts you are entitled to revel in is the Golden Chips Boosts. It is important to note that such prizes are granted at random intervals of time and that the rewards you will be given can be used solely on table games.
Mystery Boosts is the last type of Boosts you will have the chance to unlock. This time, you are required to unlock the next level so that you could reveal the reward you are granted. Once you have unlocked a Mystery Boost, you can be rewarded either a Mega Boost, a Classic Boost or a Golden Chips Boost.
It is worth noting that BGO Casino's patrons will be able to check the rewards they will be granted when they have managed to earn a Boost, the expiry date of the Boost, and the games on which they are allowed to use them up by heading to the "Vault Section" that can be found when you log into your account.
What is more, in this section, casino lovers can also keep track of all the rewards they have received. In other words, gambling aficionados will be capable of keeping an eye on all the rewards they are currently using, all the available rewards, and even on the rewards that have expired.
Once the specific reward has been granted, interactive players will have 3 days to use it. In the event that you do not want to use the reward you are given right away, you need to know that you will also have the chance to save it. Still, even if you have saved the prize, you should not forget that you need to use it before the 3 days have elapsed as otherwise, you will lose it.
Related Bonuses
Casino Cruise Tuesday Pool Party Bonus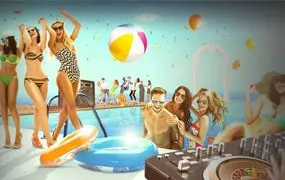 Casino Cruise first invited players to its gambling website in 2014 and soon after, established itself as a popular gami...
Read more