It is inevitable to have fun if you are a member of Casino Cruise. With a plethora of exciting games and numerous generous promotions, the interactive casino knows how to please even the most demanding players. When it comes to online gaming, safety and transparency are always important elements. This is why Casino Cruise strives to provide a fair gaming environment and help its members to enjoy fast and secure deposits and withdrawals. Providing a wide range of banking options is yet another way to show players that they can always rely on Casino Cruise when it comes to playing online for real money.
Full Bonus Terms and Conditions
Casino Cruise definitely knows how to provide players with a top-notch casino experience. What is more, the more you play for real money, the better perks you can enjoy as a member of the online casino. For those who are loyal patrons of Casino Cruise, there is the cash points Loyalty System which allows you to earn points that can be, later on, redeemed for cash.
When you make a bet of £20 on the games of Casino Cruise you will earn 1 point. When the number of your points reaches 100, you will be able to redeem them for £1. You can easily see the cash points you have collected and redeemed them by opening your account and heading to the "My Home" section.
This promotion is available only to casino members who are 18 years of age or older. The offer cannot be used by players who reside in territories which are listed as restricted by Casino Cruise. Those include Australia, Bangladesh, Belarus, Belgium, Bosnia-Herzegovina, Bulgaria, China, Croatia, Czech Republic, Georgia, Greece, Indonesia, Kazakhstan, Latvia, Lithuania, Malaysia, Mongolia, Nigeria, Philippines, Poland, Republic of Moldova, Slovenia, Thailand, Vietnam and Ukraine.
Since cash points are collected only when players make real-money bets, wagering bonus funds will not earn you any points. The minimum points that can be converted every time is set at 1000 points. Since you can convert only multiples of 100, this would mean that any remaining points will be transferred back to your account. For instance, if you have 1020 points, you will be able to redeem only 1000 for £10 and the remaining 20 will be left in your account.
The monthly maximum for cash bonuses that players can redeem at Casino Cruise is £5,000. There is, however, the benefit of being a VIP member of the interactive casino. The status of a VIP player will allow you to redeem up to £20,000 in cash bonus per one calendar month.
If you have not been active for more than 3 months, your cash points will be forfeited and you will not be able to redeem them later on. If the virtual casino suspects players of abusing the loyalty programme of Casino Cruise, it has the right to remove any unredeemed points from their balance.
The bet that is required to win 1 cash point is not the same for all of the games at Casino Cruise. If you want to earn at least one point, you will have to wager £20 on classic and video slots, other variations of slots and lottery games. The stake that will earn you one cash point when playing table games, live-dealer games or other games is £50.
Any cash points that players have earned by playing with free spins or by winning a bet, will be declared void. If casino members make low-risk bets or place their money on red or black, high or low, odd or even will not be earning cash points. If you are playing slots or video poker with the double option, this will not count towards collecting cash points either.
If you are making a use of this promotions, this will not prevent you from cashing out your deposit at any time you would like. Before you start collecting cash points or attempt to redeem them, you are advised to read the Terms and Conditions that apply to the promotion, as well as the General Terms and Conditions of Casino Cruise.
Related Bonuses
Casino Cruise Monday Breeze Bonus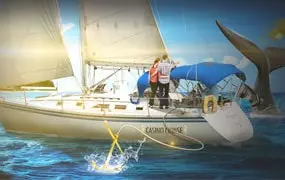 Casino Cruise is an operator that delivers an unmatched gambling experience online. The high-level security, a wide rang...
Read more