Wow Bingo is part of ElectraWorks Limited's bingo sites network. This means players have over 200 games at their disposal, including a ton of bingo variations. All websites that are members of that network are completely safe and certified in every way. Naturally, Wow Bingo holds a license by the UK Gambling Commission. Not only is this website completely safe, it also features a load of promotional offers and of course, it all starts with the Welcome Offer.
Full Bonus Terms and Conditions
The Welcome Offer at Wow Bingo consists of free tickets for seven days. You can claim up to 12 free tickets for every game in the Newbie room for the first seven days of your registration. The prizes are either £1, if you play from 1 AM – 7 AM, or £2, if you play from 7 AM – 1 AM GMT.
The prizes are split in the following way – for any One Line or Two Lines the player is awarded £0.25, and a Full House wins £0.50, so in order to receive £1, a player must win all three. For the £2 game, it is almost the same – One Line and Two Lines are both worth £0.50, while a Full House is worth £1. Once again, in order to win the full prize, a player needs to win all.
The maximum bonus funds you can end up winning from this promotional offer equal £3,000, though that would require you to have been playing non-stop for those 7 days and to have taken the offer as a first deposit one. If you are a non-funded player your balance is automatically reset to £50 every six hours. And even if you do win £50, that would be quite pointless as there is a carry-forward limit set at £20.
Additionally, while you are playing without any real-money funds you will not be able to meet the wagering requirements, you will only be able to do it after your first deposit. Then, the carry-forward bonus is a 100% deposit match, though, as we mentioned, capped at £20 in bonus funds.
First, let us clarify the exact conditions of this promotional offer. You need to be a registered player who has not made a deposit yet. You can claim your welcome bonus by validating your Visa or Mastercard, or by depositing. If you only validate, you will be a non-funded player and your balance will be reset to £50 every six hours. If you are a funded player, you will be able to keep your entire bonus and then attempt to meet the wagering requirements within the next 30 days.
The wagering requirements at Wow Bingo are 4x your bonus. Of course, since this concerns bingo bonus funds, you can only complete the wagering requirements by playing bingo games. However, keep in mind that there is also an order of currency usage at Wow Bingo.
Your real-money balance is first in line, then your winnings from that balance, and only then does your bingo bonus come into play. If you choose to deposit and claim your welcome bonus, then take into consideration the fact that free tickets are last in line usually, however, the Newbie Room was created specifically for this offer, so in it, both funded and non-funded players can only use free tickets for seven days.
So, if you want to just play some free bingo, validating your card without depositing and then claiming the welcome offer is a great option for you. If you are in it to win it and want to make the most of this promotional offer, we recommend depositing first. Either way, you get a ton of free bingo for 7 days.
Of course, the terms and conditions of Wow Bingo apply fully. If a player attempts to claim the welcome bonus twice that will be regarded as fraudulent activity. Similar actions will also most likely result in the termination of your account and forfeiture of its funds.
Related Bonuses
Naughty Bingo £3,000 Free Bingo Welcome Bonus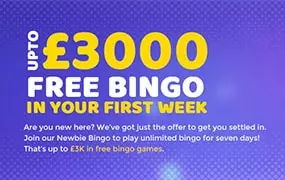 Although playing in bingo halls might be fun, nothing can replace the comfort of buying bingo tickets and marking off nu...
Read more