Wish Bingo is a fabulous, fairytale-themed site offering bingo, slot, mini and scratch games of the finest quality. Players can choose between three different bingo variations including 90-ball, 75-ball and 5-line bingo giving you the chance to win a solid jackpot. The number of payment methods Wish Bingo supports is also reasonable. Players can rely on courteous customer support at any time. The site is accessible via tablets and smartphones along with the 90-ball and 75-ball games it also offers six free-to-play rooms for funded and non-funded players as well as all functionalities necessary for enhancing your gameplay on the small screen.
£10 No Deposit Bonus Requirements
Wish Bingo provides all newcomers with the opportunity to explore the site and take part in the bingo games without making a deposit. Upon signing up, every new player receives a £10 no deposit bonus to play with.
However, in order to receive the bonus, you need to go through the registration process. You are required to enter valid information including your name, postal code, email address, date of birth. The latter is required as Wish Bingo sends a gift to every player on their birthday.
Although you are not supposed to deposit any funds in order to get the sign up bonus, you are still required to enter valid credit card information for security purposes. If you choose to complete the registration without entering your banking information, you will not be granted the bonus.
It is important to note that your sign-up bonus cannot be cashed out. You can use it for purchasing bingo tickets and then, you will be allowed to withdraw the winnings you have generated.
Depending on the payment method you choose, your withdrawal request might take up to two weeks.
All bonuses available at Wish Bingo are intended to enhance your bingo experience and allow you to play before you place your first deposit. Wish Bingo management reserves the right to amend the current terms and conditions, forfeit winnings and cancel the promotion in case a breach in the terms and conditions is noticed.
You are allowed to use any of the products and services available at the site for non-professional use and personal entertainment only. Keeping this in mind, you can participate in up to 120 bingo games per week. In case you exceed that limit, you will be considered a professional player and Wish Bingo officials will have the right to forfeit your winnings and even close your account.
Related Bonuses
Robin Hood Bingo No Deposit Room Bonus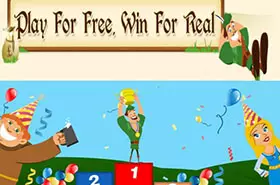 Robin Hood Bingo is one of the newest online gambling websites on the Internet and it has already established a solid pl...
Read more